SHOP LOCAL AT 2021'S NOT-TO-MISS HOLIDAY MARKETPLACES
Photo by freestocks on Unsplash
'Tis the season to be shopping. And those of us fortunate to be doing our holiday shopping in Santa Barbara always enjoy a plethora of local entrepreneurs ready to sell their homegrown and handmade, one-of-a kind gift items. No matter your tastes, our talented local artists, crafters, and bakers appreciate the support. Plus, when you shop local, especially during the holidays, you do far more than come home with unique gifts. Buying local actually stimulates the economy in our community and helps benefit local schools and charities. It even helps the environment.
READ: 20 Things to Love About Santa Barbara
5 Reasons to Shop Local This Holiday Season
1. Community Vitality
The first reason to shop local is simple: doing so helps our community. How? Buying from locals obviously helps their businesses grow. In turn, a growing business improves our community. And strong businesses create strong leaders in the community who make good decisions.
2. Local is Local
Local stores as well as the local holiday marketplaces that are held this time of year in and around Santa Barbara are those in close proximity to you. And they have amazing treasures in them that you can't get anywhere else. Handmade crafts, baked goods and other homegrown goodies are just a few options you can find at local stores in town.
3. Different Creative Gifts
I enjoy gift-giving, but I dislike giving the same gifts each year. I have to switch things up. And that's the beauty of shopping local. There's always something new to discover; some kind of new inspiration from the business owner. It's all right there and ready on display for the holiday season. That means when you shop local, you find the most impressive and unique gifts to consider for everyone on your list.
READ: Tips on Buying a Home During the Holidays
4. Building Relationships
By making purchases from our friends' or neighbors' businesses, we strengthen the base of our whole community. When we buy from independent, locally-owned businesses, farmers markets or holiday marketplaces rather than national chains, a significantly greater portion of our money is then cycled back through our local economy. Plus, local businesses donate more per sales dollar to local nonprofits, events, and teams compared to national chains.
5. Helps the Environment
By shopping locally, you are purchasing goods produced in your local community. You are also helping to protect local lands and wildlife, supporting our local workforce, and helping the environment, simply by reducing the pollution associated with transportation.
The Return of Local Holiday Marketplaces
You can find unique gifts in local family-owned stores around Santa Barbara, plus, we also have the convenience of shopping with a number of local vendors at any of our popular holiday marketplaces. To make it easy for you to find the best ones, here's a list of my favorites: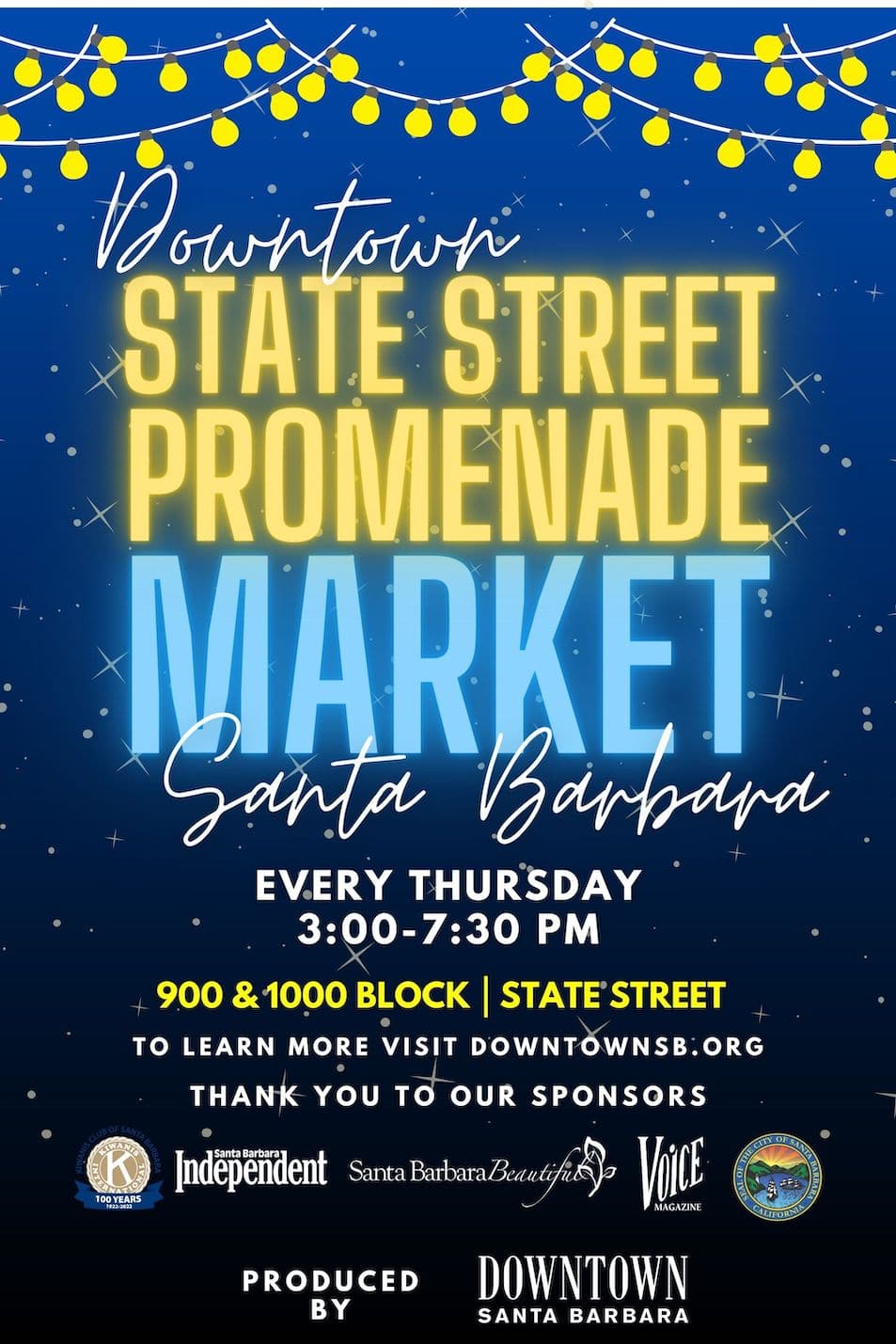 State Street Promenade Market, Every Thursday, 3 p.m. to 7:30 p.m.
Admission is free
Give the gift of signature Santa Barbara products and goods this year by shopping at the State Street Promenade Market. Take advantage of the promenade, located in the 1000 block of State Street between Carrillo Street and Figueroa. The area is closed to traffic and transformed into a local marketplace each Thursday for shoppers to meet and support the local makers of Downtown Santa Barbara. Enjoy the festive, temporary art, and light installations while you sample delicious food and decadent drinks from downtown purveyors.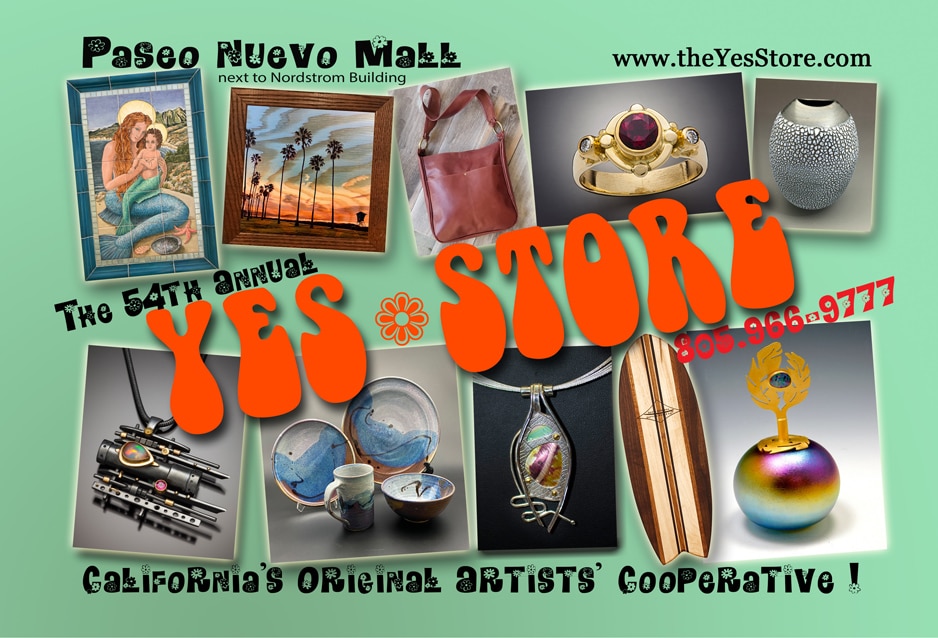 The Yes Store, Now to December 24, 2021
Cost: Admission is free
Holiday shopping in Santa Barbara wouldn't be the same without the city's original artists' pop-up gift gallery, The Yes Store. And the good news is it returns to downtown Santa Barbara for its 54th year. Featuring the works of local artisans, from the worlds of woodworking, ceramics, and fine jewelry, to glasswork, fabric, leather, and more, this is your chance to pick up that one-of-a-kind treasure. YES!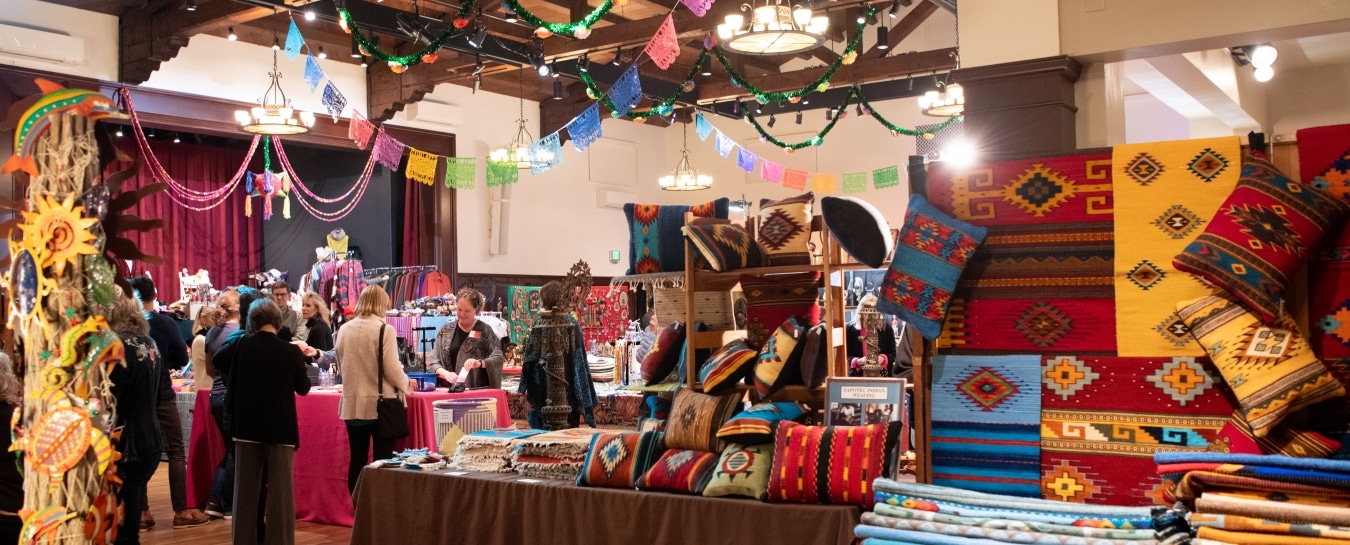 36th Annual Folk & Tribal Arts Marketplace, December 3-5, 2021, 10 a.m. to 5 p.m.
Cost: Admission is free
Don't miss shopping at the Santa Barbara Museum of Natural History. You have three days to shop in this diverse marketplace where 20 vendors will showcase goods from dozens of countries around the world. The Folk & Tribal Arts Marketplace is an annual shopping extravaganza, the perfect place to purchase special items for those hard to gift people on your list. Think beautiful jewelry, colorful textiles, intricate baskets, unique pottery, art, worldly decor, and more at the largest Folk Art show in Southern California.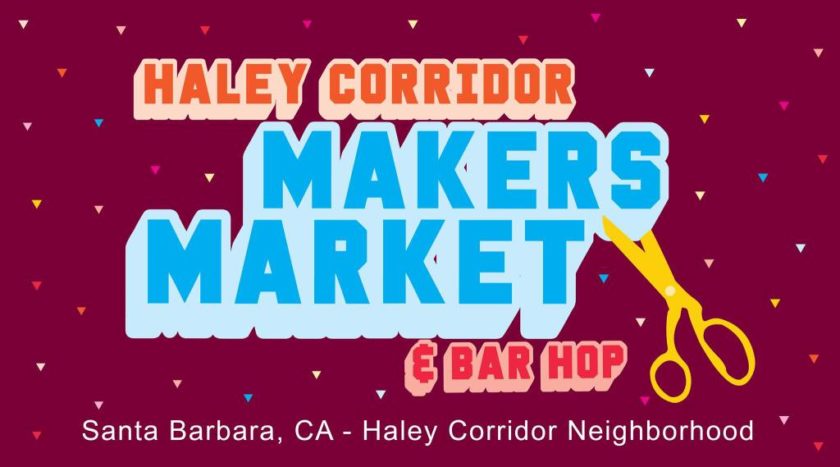 Haley Corridor Makers Market & Bar Hop, December 11, 2021, 12 p.m. to 5 p.m.
Cost: Free to attend. Drinks and goods sold separately
Celebrate the holidays at the Haley Corridor Makers Marketplace. Set in one of Santa Barbara's most exciting emerging pocket neighborhoods, everyone's invited to enjoy an afternoon of shopping and sipping. In partnership with I Heart Indie Markets, don't miss the unique opportunity to browse 30 makers and enjoy libations from Carr Winery, Potek Winery, and Third Window Brewing. Handmade goods for sale include jewelry, knit products, home decor, art prints, soap, candles, and more.
---
There's no arguing that holiday shopping in Santa Barbara, at any of our local marketplaces listed above, will get you into the holiday spirit. If you are looking to celebrate the season next year by making a move in Santa Barbara or any if the surrounding communities, give me a call at (805) 886-9378, or email me at Cristal@montecito-estate.com. I will happily add your listing to my portfolio of amazing estates for sale and find you a new home at the same time. Let's all support local this holiday season!
---