THESE ARE THE BIG ONES TO CONSIDER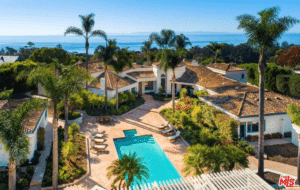 Are you aware of the hidden costs related to buying a house? For the unsuspecting homebuyer -- moving to a new home like the Singular Ocean View Montecito Home pictured on this blog -- these hidden costs can be truly frightening. With the right Realtor™, some of the costs listed below can be negotiated during the buying process. That's why it's crucial that you work with a seasoned professional.
READ: Cristal Clarke: The Expert in the Montecito Real Estate Market!
Remember, before you sign any document, check with your attorney or financial advisor. Make sure they are aware of these 9 hidden costs of buying a home:
Earnest Money
Earnest money is a sign that a buyer is serious about their offer. Think of it as a security deposit. You're not going to give the seller money to demonstrate that you're going to make an offer, and then just go buy somebody else's house.

Generally, buyers get the money back or put it toward the purchase on the home. Those who are taking out a loan must remember — if the financing falls through due to a problem on your end, you may not see that money again.
Closing Costs
Closing costs are usually 2% – 5% of the value of your house, which covers all of the fees a buyer pays at the closing of a real estate transaction. Unfortunately, there are a lot of them, including mortgage origination fees, title insurance, recording fees, surveys, notary fees — the list can go on and on.

Many of the closing costs that buyers encounter are small. For instance, maybe you'll shell out $25 for a recording fee to cover public land records. Other costs, like your home inspection fee, can run in the hundreds of dollars.
Property Taxes
It's easy to forget about property taxes because they're usually lumped into your monthly mortgage payment unless you're paying cash. This money is placed in escrow every month to cover your taxes. Keep in mind that during the first year of ownership, you could receive a supplemental property tax bill
"Here in California, this is an all-too-common occurrence," said Beau Hodson, founder, and senior mortgage loan originator at Transparent Mortgage in San Diego. "We work to let clients know upfront about this possibility, but there are so many details during the home-buying process, this one is easy to forget."
And, of course, your property taxes may go up over the years if the value of your home continues to increase. This will make your monthly mortgage payment higher. California's overall property taxes are below the national average. Keep in mind, however, the average effective property tax rate in California is 0.79%, compared with a national average of 1.19%
4. Homeowner's Insurance
Just like your property taxes, your homeowner's insurance will likely be rolled up in your monthly mortgage payment and paid by your lender to your insurer. So, once you have figured out what your monthly payments will be, and you've added the property taxes and homeowner's insurance, you can almost forget about these expenses. Almost. Unfortunately, like the cost of everything, your homeowner's insurance premiums can go up.
5. Funding The Escrow Account
Don't be surprised if you're asked to pay more than expected of your homeowner's insurance and property taxes upfront. That's because buyers are asked to pre-fund their escrow account in order to cover their first year's taxes and insurance. This money will cover more than the estimated insurance and tax expenses for the following year.
School Taxes
The amount a buyer pays a county for school taxes depends on which part of the country they are moving to and the school district itself. The Treasurer, Tax Collector and Public Administrator in Santa Barbara County are independently elected by voters. They are responsible to receive, safeguard, and invest county, school, and special district funds; collect taxes and revenues; administer estates for county residents when required as public administrator; administer conservatorships for county residents when required as public guardian; and assist county veterans in obtaining State and Federal Benefits.
READ: The Santa Barbara School District
Moving Costs
This one-time cost must be considered. Homebuyers can find the top movers in Santa Barbara and easily get estimates through Thumbtack.

"If you're hiring movers, a same-city move will cost around $1,000. However, a cross-country move will likely top $6,000 for movers alone," said Tony Drake, a certified financial planner and the CEO and founder of Drake & Associates, a wealth management firm in Waukesha, Wisconsin.
Home Maintenance and Repairs
Homeowners should expect to spend from 1% to 4% of their home's value each year on maintenance and repairs.

"Some years, you may only spend a couple hundred dollars ... but if you budget for more, you'll have that money set aside when you need a new roof down the road," Drake says. "Even small maintenance projects, like yard care and gutter cleaning, can add up if you don't budget properly. If you prefer a DIY approach for these projects, remember to budget for trips to the hardware store to buy paintbrushes, a lawn mower or other tools."

You'll definitely want to have the funds to pay for repairs. Keep in mind, buyers who take care of ongoing maintenance will maximize their resale value when it comes time to sell.
Utilities
Think electric, gas, water, sewer, cable, telephone and internet. You'll not only be making monthly payments on these but remember it can be expensive to set up the utilities due to the deposit many providers require. Those costs can really add up.
---
Thinking about all the hidden costs of buying a home can feel overwhelming, but working with the right agent can make it a little easier to swallow. But before you go buying a yurt, just remember that a lot of people buy houses and live to tell the tale. If you're considering buying a luxury home in Montecito, or any of the upscale neighborhoods of Santa Barbara, give me a call at 805.886.9378 or email me at Cristal@montecito-estate.com. Ready to go house hunting?
---