THE LIST OF CELEBRITY RESIDENTS IN THE PRIVILEGED ENCLAVE GROWS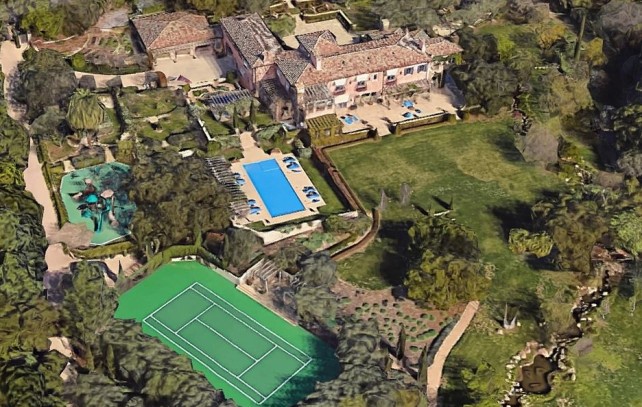 Google Maps
Journalists from all over the world are reaching out to me about Montecito's newest celebrity family, popularly known as Harry and Meghan: Prince Harry, Meghan Markle and their son Archie Harrison Mountbatten-Windsor. The couple recently purchased a $14.7M home in the star-studded enclave of Montecito. Often referred to as "Beverly Hills North," Montecito is a beautiful sanctuary sandwiched between the rugged peaks of the Santa Ynez mountains and the sea, perfect for superstars (or former royals).
"For many years, we were a well-kept secret – so close to LA, but a million miles away in terms of lifestyle and quality of life, bound by a sense of community," comments Cristal Clarke, a luxury property specialist at Berkshire Hathaway HomeServices in Montecito.

This is the "American Riviera," says Clarke – and it's where you come for stunning beaches and world-class wineries. It's a place for art lovers, horse riders and foodies. Low-key may be a little misleading, however, for a location dotted with palatial, multi-million-dollar estates costing up to $75M.

Many of these hillside havens – including the Duke and Duchess of Sussex's – are "Spanish Revival", or "Old World Mediterranean" in style, with their sprawling terracotta tiled, peach-coloured main houses, sweeping lawns, fountains and olive groves reminiscent of Andalucia or Tuscany.
Harry and Meghan announced their decision to step down as senior royals in early January 2020. After the announcement, Harry, Meghan, and baby Archie moved to Vancouver Island, a quiet, idyllic spot off Canada's Pacific Coast. Next, they relocated into Tyler Perry's mansion in LA. And finally, they landed in the lush, intimate village of Montecito. Here's a look inside "The Chateau" from ET Canada.
The town seems a world apart from their royal digs, with quiet streets, intimate white sand beaches, and gated estates.
"The neighborhood of large homes and estates Harry and Meghan have chosen is 'off the beaten path,' so to speak, and is reached via charming country-like roads often intersected by private lanes."

"The community of Montecito itself is nature-like with its abundance of majestic, mature trees and lush public and private landscaping. Its location, nestled against the foothills of the Santa Ynez Mountains, provides convenient access to numerous hiking trails. There are private equestrian boarding and riding facilities nearby as well, and pristine beaches are mere minutes away.

About Montecito
Montecito is consistently ranked as one of the richest communities in Southern California with a list of famous residents reading like an issue of Forbes magazine. Among the approximately 10,000 residents residing in Montecito are numerous A-list celebrities, including Oprah Winfrey, Rob Lowe, Ellen DeGeneres, Ariana Grande, and many more.
READ: Celebrity Living in Santa Barbara
They come here to escape the limelight and avoid the paparazzi. Plus, the overall celebrity appeal isn't as prevalent here quite like it is in the Hollywood area, creating a quiet and peaceful community for the extremely well-to-do's like Meghan and Harry.
"Montecito residents are accustomed to having high-profile neighbors and visitors, and many of those residents can relate first-hand to overzealous attention," Clarke explained. "In other words, you might say the new neighbors will be welcomed warmly, yet with 'respectful congeniality.'"
The Sussexes new palatial mansion known as 'The Chateau' has nine bedrooms and 16 bathrooms. Built in 2003, the 14,563-square-foot home sits on 5.4 acres with manicured hedges bordering the estate's stone-pillared entry gates. According to property listings, the mansion took nearly five years to build. Inside the young family can enjoy the library, office, spa with separate dry and wet sauna, gym, complete with stripper pole, game room, arcade, theater, wine cellar and a five-car garage. There is also a two-bedroom, two-bath guest house, located on the grounds. It is reserved for Meghan's mother Doria, who is currently acting as one-year-old Archie's nanny.
One could say Harry and Meghan got a great deal on their sprawling Montecito mansion. The seller, believed to be Russian tycoon Sergey Grishin, spent more $25M for the property back in 2009. He originally listed the home for up to $34M.
Why Harry and Meghan Chose Montecito
Montecito (Spanish for little mount) is an unincorporated community and census-designated place in Santa Barbara County, California, located east of the City of Santa Barbara. There are many reasons the rich and famous choose to live here, not the least of which is the fact that the town is one of the safest and most family-friendly communities in the world. Montecito homes are secluded from view by tall hedges and other lush landscaping at the end of gated driveways, adding to the safety factor.
READ: Baby Checklist: 10 Things to Do to Prepare Your Home for a Newborn
Montecito is also a great environment to raise the duo's son, Archie, because of our award-winning private and public schools. In fact, Montecito Union School District, recognized as a California Distinguished School, is one of the local public elementary schools serving children in grades Kindergarten through 6th Grades. The district, composed of a middle to upper socio-economic population, has a current enrollment of approximately 410 students – 411 when Archie enters kindergarten.
The region's unusual south-facing coastline contributes to the balmy Mediterranean year-round weather similar to the weather you'll find in the French Riviera, owing to its nickname: the American Riviera. The beautiful coastal landscape, combined with the close proximity to LA, low-key but high-quality lifestyle, outdoor recreation, arts and culture, and our world-class food and wine scene may also be aspects that drew Prince Harry and his family to Montecito. We also have a high concentration of philanthropists and philanthropic organizations, the perfect setting for the important work Harry and Meghan are doing.
READ: Santa Barbara Living: Testament to Why It's a Top 100 City
But the main reason celebrities like Harry and Meghan love living in Montecito is because they feel like regular people here, community members who will not be hassled by locals or by paparazzi.
If you're considering joining Prince Harry and Meghan Markle by buying in the 93108 zip code, or selling to move to a different Santa Barbara area community or neighborhood, give me a call at (805) 879-5000 or email me at Cristal@Montecito-Estate. I represent the highest level of clientele and specialize in the sale and acquisition of extraordinary estates and land in Montecito and all the upscale communities surrounding it.
---
My total sales last year were in excess of $260M, and I am on par to beat that record in 2021. So, now it's your turn to consider one of my distinctive, celebrity-worthy homes or estates. Wouldn't it be nice to have Harry, Meghan, and Archie as your neighbors?
---