THE ARTS AND THE AQUATIC TAKE CENTER STAGE DURING THE 2ND MONTH OF 2022
Photo by Jeremy Bishop on Unsplash
Love is in the air all month long when it comes to Ojai and Santa Barbara events this February. The month that includes a day dedicated to the celebration of love also ushers in brighter days and gorgeous sunsets, setting the stage for romance. And while many local restaurants in Santa Barbara and Ojai will be offering special menus for Valentine's Day, there are other activities to love this month as well.
READ: 20 Things to Love About Santa Barbara
For Art Lovers
The much-anticipated exhibition, Through Vincent's Eyes: Van Gogh and His Sources, is coming to the Santa Barbara Museum of Art February 22, 2022 - May 22, 2022. The experiential showcase features 20 of Van Gough's works, presented to immerse viewers in the artist's visual imagination alongside nearly 75 objects, including work from Jean-François Raffaëlli, Eugène Delacroix, Claude Monet, and Paul Gauguin. Locally, the exhibit includes an expansive, city-wide program from 17 other businesses, offering curated performances, musical renditions, gallery lectures and more.
READ: Santa Barbara: Oasis of Arts and Culture
For Theatre Lovers
The Ojai Art Center Theater's 2022 season kicked off on January 21 with the Tony-winning play by Christopher Durang called "Vanya and Sonia and Masha and Spike," which runs through February 13. Longtime acclaimed director Taylor Kasch is leading the production of the Chekhov parody that revolves around the relationships of three middle-aged single siblings discussing their lives and loves. The Ojai Art Center opened in 1939 and is the longest continuously operating multi-disciplinary center serving the arts in the State of California.
For Film Lovers
A Santa Barbara tradition returns to the Arlington Theater beginning February 22 at 7:30 PM. The Banff Mountain Film Festival World Tour features the world's best films and videos that center on mountain culture, sports, environment, adventure and exploration, the tour awes viewers with thrills and grandeur captured in exotic locations the world over. The show's wide variety of exciting film subjects from extreme sports to mountain culture and environment. An entirely different program of films screens each night.
READ: Santa Barbara's Arlington Theater
For Music Lovers
The Santa Barbara Symphony "Beethoven in Bloom" concert on February 19-20, 2022 is an invitation to stroll through nature with Beethoven's expressive sounds. EMMY Award-winning composer Jeff Beal shares his visual and musical depiction of rebirth in this collaboration with Santa Barbara Botanic Garden.
READ: The Santa Barbara Bowl: A Shrine to the Performing Arts
Join the Ojai Underground Exchange on February 19 from 7:00 to 9:00 PM for a live performance and broadcast by The Storytellers, a progressive bluegrass ensemble whose repertoire represents a unique blend of roots-rock, Americana, country-blues, folk and jamgrass. You'll be treated to one of the fastest rising bluegrass groups on the Southern California music scene, The Storytellers started just one year ago on street corners in Los Angeles and Santa Barbara. Now, they are gracing stages of regional fairs and festivals throughout the Golden State.
If you're a fan of musicals, then head to the Granada Theater for Jersey Boys on February 22. Presented by the Broadway in Santa Barbara Series, this jukebox musical is the story of four guys from Jersey who had a sound nobody had ever heard. But while their harmonies were perfect on stage, off stage it was a very different story. Enjoy the ultimate triumph of a group of friends whose music became symbolic of a generation.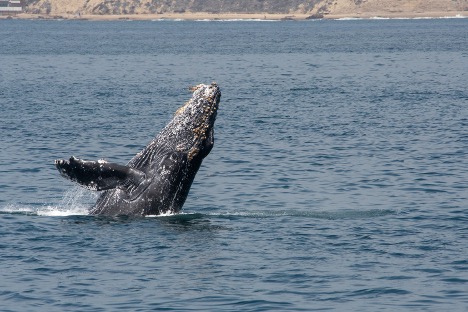 Photo by Stacey Morrison on Unsplash
For Whale Lovers
For a special treat among Ojai and Santa Barbara events, travel with Soul Body Ojai on an adventure of Whale Medicine as the Pacific Grey Whales of Baja California migrate from Alaska to Mexico. Join a group of other whale lovers as you travel by boat to convene with the whales. The trip, referred to as intimate, astonishing, and otherworldly, is an opportunity to immerse yourself in an interspecies sound healing experience designed to amplify a participant's field of wonder while expanding their heart chakra, right there on the water. From the boat, the whales, and the humans on this adventure, will be treated to gong sound baths designed to create a deep connection to one's higher self.
READ: Santa Barbara Day Trips: Convenient, Safe and Sanity Savers
Santa Barbara's premier Whale Watching and Charter Cruise venue, The Condor Express invites you to see and feel the magnificence of nature, in February or any month, in 2022. This is one of only a few whale watching companies that guarantee you'll see whales. If you don't, the captain will issue "whale checks" which are good for a free trip of your choice on another Condor Express Whale Watching trip.
February Ojai and Santa Barbara events also include exploring the sea via kayak or paddleboard, or staying on land with your four-legged furry valentine to experience the magic of the Douglas Family Preserve or The Ojai Valley Trail. This is also a good time to show yourself a little love through self-care with a reinvigorating massage or soul-soothing yoga flow in Santa Barbara. Or you might choose to embrace the many unique, mindful activities and meditative moments available exclusively in Ojai. Whatever you choose to do, the perfect adventure awaits in February.
---
If your adventure includes making a move in Santa Barbara or Ojai, I invite you to give me a call at (805) 886-9378 or email me at Cristal@montecito-estate.com. I will happily add your listing to my portfolio of amazing estates for sale and find you a new home at the same time. Let's all celebrate love while enjoying Ojai and Santa Barbara events during the month of February.
---