THE AMERICAN RED CROSS SAYS "GET A KIT, MAKE A PLAN, BE INFORMED"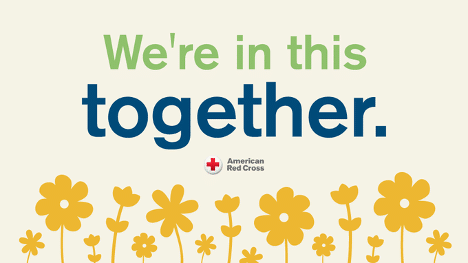 Image courtesy of American Red Cross
Santa Barbara homeowners, along with the rest of the world, are experiencing a heightened awareness of natural disasters these days. According to the American Red Cross in Santa Barbara, this awareness has brought with it new ways every household member can be better prepared in an emergency. The key is a family disaster plan.
All Santa Barbara homeowners need to do is follow the organization's three key steps: "Get a Kit, Make a Plan, Be Informed." Following the simple steps outlined below will help you keep yourself, your family, and your community safe, in a variety of emergency situations. It will also aid the thousands of Red Cross staff and volunteers to administer emergency aid when you need it most.
Disaster Preparedness Kit
Your journey to disaster preparedness begins with a family disaster plan, and a kit, or go bag, to hold all the items you will need in the event of a disaster. Remember, your carryall must be large and sturdy enough to hold the essentials below and small enough to grab on the run. One great option is to use a backpack. Another is a duffel bag on wheels, which is especially important for those residents unable to carry heavy items.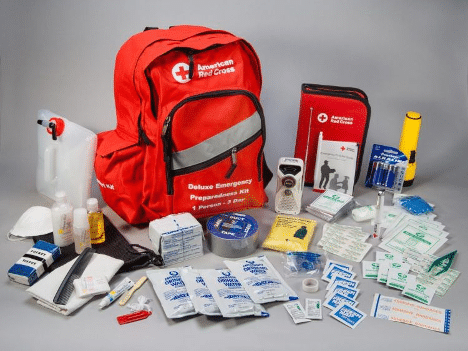 Photo credit: American Red Cross
According to the American Red Cross, here are the important items your emergency preparedness kit should contain:
Water - At least one gallon per person, per day (3-day supply for evacuation, 2-week supply for home)
Food - non-perishable, easy-to-prepare items (3-day supply for evacuation, 2-week supply for home).
Pet needs ‑ Remember to pack your pet's food, too (include their collar, leash, ID, food, carrier, bowl, medications).
Flashlight
N95 Masks
Battery-powered or hand-crank radio (NOAA Weather Radio, if possible)
Extra batteries
First aid kit
Toiletries
Manual can opener
Medications (7-day supply) and medical items
A multi-purpose tool like a utility knife
Sanitation and personal hygiene items like hand sanitizer
Copies of personal documents (medication list and pertinent medical information, proof of address, deed/lease to home, passports, birth certificates, insurance policies)
Cell phone with chargers
Family and emergency contact information
Extra cash
Emergency blanket
A change of clothing, including a warm, waterproof layer
An extra pair of eyeglasses or contact lenses (and solution).
Scissors
Duct tape
Work gloves
Towels
Matches
Baby supplies (bottles, formula, baby food, diapers)
Games and activities for children
Extra set of car keys and house keys
Map(s) of the area
READ: Luxury Bunkers: Time to Invest in a Private Shelter?
Additional supplies to consider for your family disaster plan go bag include:
Whistle
Rain gear
Towels
Work gloves
Tools/supplies for securing your home
Extra clothing, hat and sturdy shoes
Plastic sheeting
Household liquid bleach
Entertainment items
Specialized medical equipment like syringes, CPAP machines, and oxygen tanks
Keep your go bag in an accessible location, such as a front hall closet or garage, where it's easy to grab on your way out the door.

Create a Household or Family Disaster Plan
Every Santa Barbara family and individual needs to plan for an emergency. Effective disaster preparedness helps alleviate some of the chaos that surrounds any unexpected crisis. Experts say it is critical to have a written household or family disaster plan in place, which should be revisited regularly to ensure everyone in your household knows what to do and feels comfortable doing their part. The American Red Cross has excellent advice to help you with that, too:
Start by discussing with your family or household members how to prepare and respond to the types of emergencies that are most likely to happen in this part of the world, namely earthquakes, fire, flood, hazardous spills, active shooters, or extreme weather.
Next, assign certain responsibilities to each member of your household, determining who will be in charge of what aspect of the plan. You will need to work together as a team in the event of an emergency so make sure you are in sync with one another.
Finally, practice, practice, practice. By rehearsing the many elements of your plan, you will ensure everyone knows what to do and your family stays safe.
READ: Montecito Community Leadership Forms The Partnership for Resilient Communities
The American Red Cross has put together this free, handy template which makes it easy to create your official Family Disaster Plan. Just by filling out the form, Santa Barbara homeowners will have peace of mind knowing they have a list of everything they could need in the case of disaster at their fingertips.
Be Informed
Finally, make sure to sign-up to receive emergency notifications with California Health Alert Networks, the official public health alerting, and notification program for the Golden State. By doing so, Santa Barbara homeowners will allow federal, state, and local public health partners, environmental health, emergency medical services, healthcare, and emergency response to share important information with each other and with you. Santa Barbara County Public Health Department uses CAHAN to alert healthcare facilities throughout the county during emergencies.
Santa Barbara locals should also sign up with the Santa Barbara County Emergency Notification System. That is the best way to immediately receive emergency notifications on your phone through calls or text messages, on your computer via email, and more. After you sign up, the Santa Barbara County Emergency Notification System will alert you to flooding or road closures in your area, too. Through them, Santa Barbarians will be better prepared by receiving alerts from multiple facilities.
---
While being prepared with a household or family disaster plan might not prevent a disaster, it will give you the tools and the knowledge to be able to tackle the challenge head-on. Are you prepared to sell your home in Santa Barbara, Montecito, or Hope Ranch, or any of the upscale Santa Barbara neighborhoods, and begin the search for a new home sweet home? I have a plan for that! Begin your home hunt by checking out the listings on my comprehensive website. See something you like? Let me arrange a private tour. I can also sell your existing abode while we find you a new one. If this sounds like you, please give me a call at +1 (805) 886-9378 or email me at Cristal@montecito-estate.com.