FROM MOVE-IN TO SETTLING IN: A TOP REALTOR'S GUIDE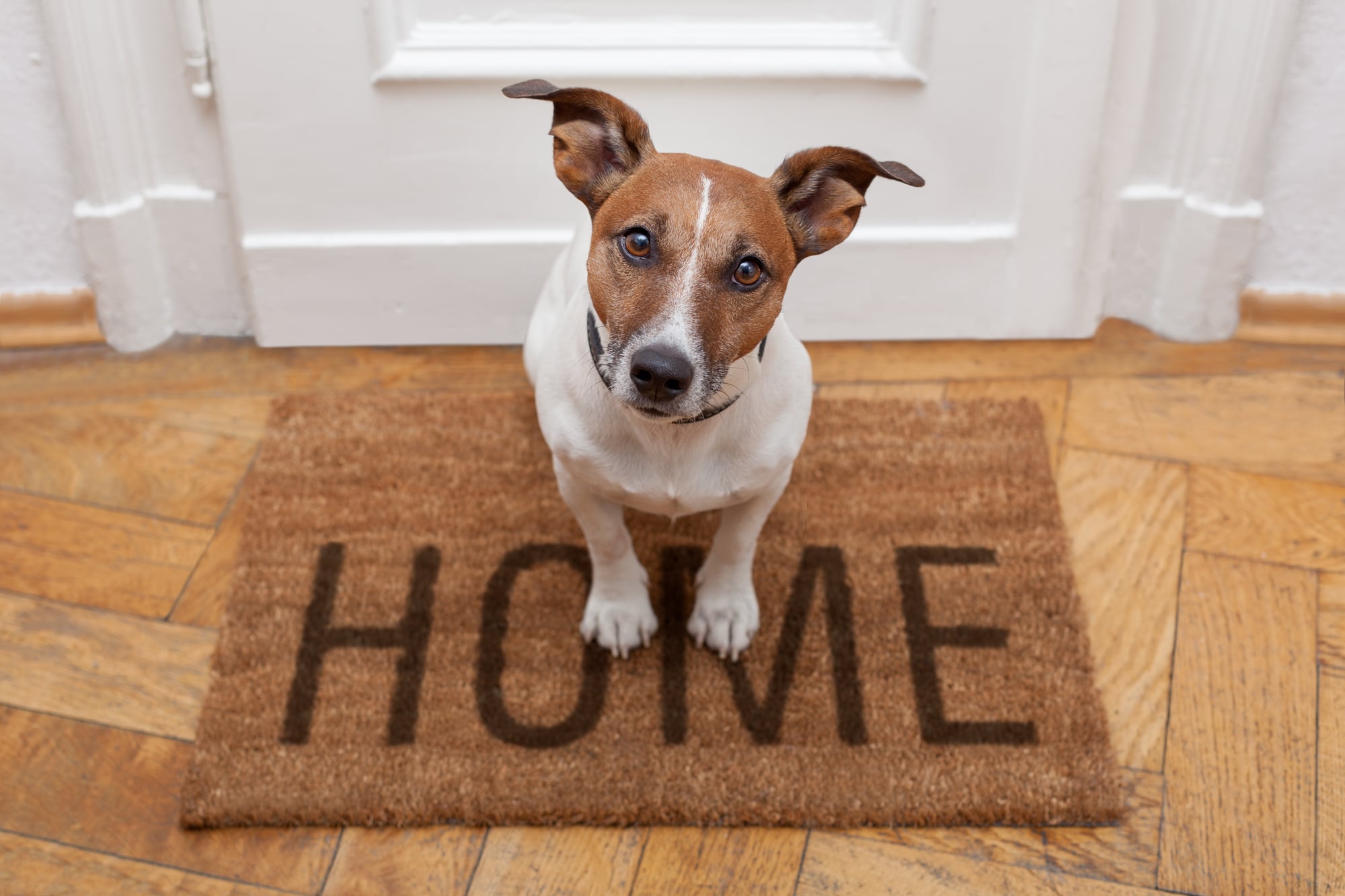 In recent years, dogs have become center stage in many homes. Even during times of conflict and hurt, the one thing most families can agree on is that they love Fido and enjoy his company. That's not surprising. Dogs are the epitome of loyalty, forgiveness, and love. What is surprising, though, is that the rest of the world took so long to figure out what dog lovers like me (and maybe you) have known all along—dogs are most definitely a beloved family member. Hence, the need for creating a dog-friendly home.
That's especially true today as our society has become much more insular than it used to be. That separation from the rest of the world started well before COVID-19 hit and has only grown stronger since. Simply put, our homes have become our havens. So, shouldn't we consider the needs of every member of the family? I say: Yes we should! Especially when it comes to dogs, who give us so much and ask for very little in return.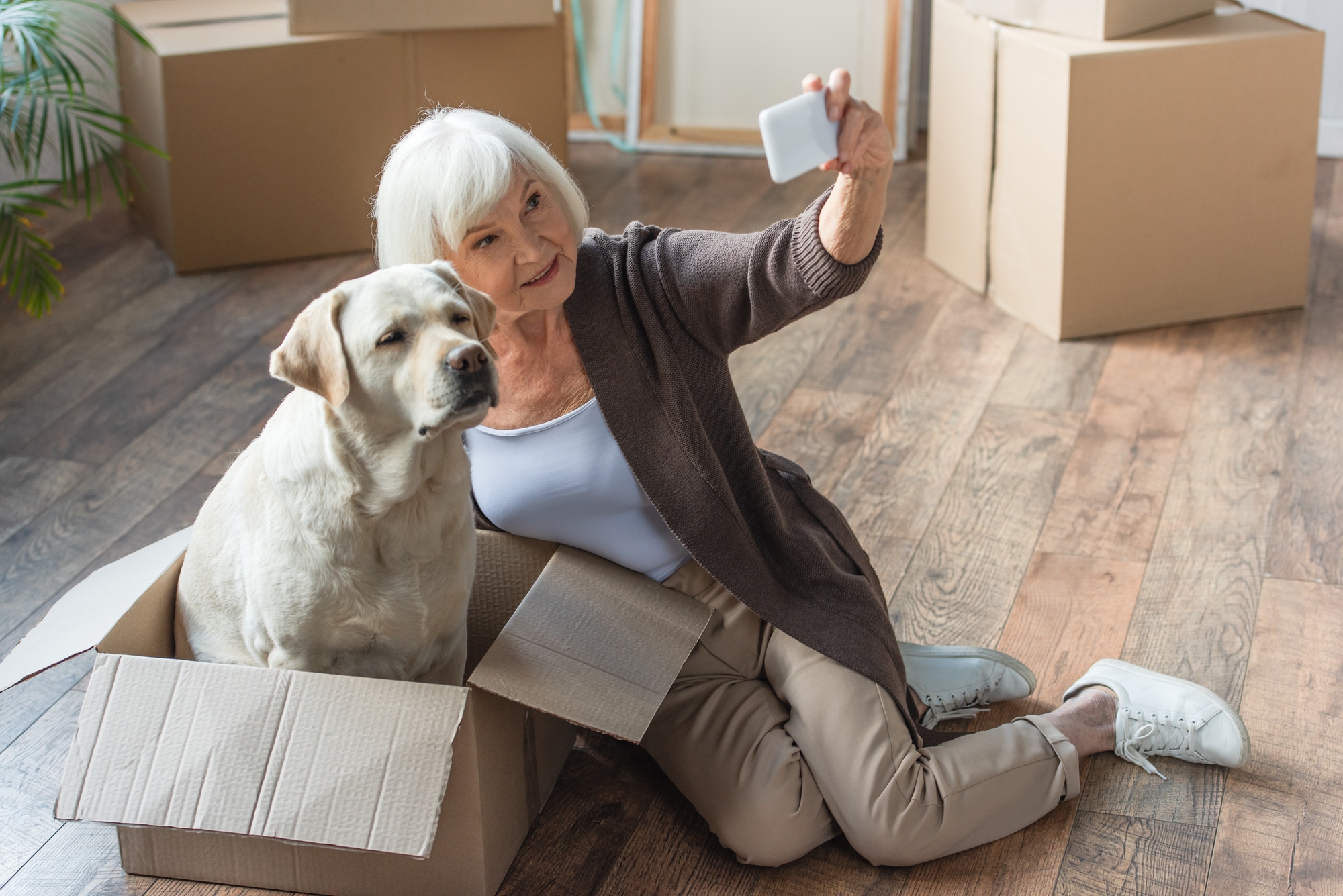 10 Tips for a Stress-free Move with Your Dog
With that in mind, it makes sense to look into the ways humans can make their pets' lives a little easier and happier, starting with a stress-free move. It's common knowledge that dogs are creatures of habit and few things mess up a routine like moving.
Here are 10 things you can do to put your dog at ease and limit the stress on both of you:
Maintain a normal routine while packing.
Before the big move, get your dog crate or carrier ready (especially important if your dog is not used to traveling in a crate). Create a positive association with the crate by giving your pet treats or toys every time he goes in.
For moves that require long drives, get your dog ready by taking him in the car, increasing the duration on each trip.
If moving your dog by plane, consider hiring a pet transport company that specializes in relocating precious canine cargo.
Give your dog treats if he is around while you're packing to alleviate some of the anxiety the boxes and disorder may cause.
On moving day, keep your dog in a secure location while loading the moving truck, whether you or hired professionals are doing it.
Try and keep your dog somewhere out of sight of the commotion—with treats, food, water and toys to keep him occupied.
Pack your dog's leash, food, treats, water bowl, toys and favorite blanket separately and bring them with you. Setting them out while you move in the rest of your things will keep your pet comfortable and occupied.
When driving, stop for potty breaks along the way and never leave your dog alone in the vehicle.
For the first few months in your new home, make sure you keep an eye on him, even when he's playing in your backyard. A dog who hasn't adjusted to a new location may try to find his way back to his old stomping grounds.

Designing the perfect dog space in your Santa Barbara home
Once you've moved in, take some time to dog-ify your space. Homeowners in dog-friendly Santa Barbara are part of a growing trend looking to interior designers and even builders to create spaces specifically to accommodate beloved pets. Pet feeding areas, pet baths, showers or pools, cozy bed/den areas, storage for food, leashes, toys and grooming products all topped the list.
According to Betsy Bassett, owner of Betsy Bassett Interiors: "It's not just a crate in the corner anymore; people want to designate a more permanent place in their home for their dogs: a place that incorporates them more fully into the home, just as they are incorporated into our everyday lives as family members."
That's right. Forget about the simple dog crate and food bowl of the past. Today's home pet amenity requests are being met in elegant and innovative ways, perfect for those who live in luxury in Montecito and Santa Barbara or any of our upscale communities. From furniture-style gates that retract seamlessly into the cabinetry, to islands with built-in beds and wall niches that hide canine water fountains, the possibilities for creating a dog-friendly home are endless.
The growing trend among dog owners is to include dog-specific spaces in different rooms, or even give Fido (or Fifi) his or her own room. The laundry room is a great choice. Wherever you decide, creating a specific space in your home for Fido or Fifi is the best way to contain the plethora of accessories needed for any well-loved pooch.
Another hot pet trend is personalization. This does not refer to adding your dog's name to their bowl. Designers and builders are shaping design solutions around the individual needs and preferences of the family pet. Examples include pet whirlpools for older dogs who suffer from arthritis, and outdoor showers for younger pups who love to get dirty, or frolic on one of our beautiful pet-friendly beaches.
Doug Walter from Doug Walter Architects says: "It's so easy to design in a single or multi-use dog wash—and the dogs will much prefer this to being blasted with ice-cold hose water outside. This is more like a doggie spa, with warm water and shampoo, maybe a little cream rinse, followed by fluffy towels and, finally, a brush down. Could it get any better?"
You can find a host of stylish pet accouterments to buy and an abundance of ideas online when creating a dog-friendly home. But, before you waste any time or go on a needless spending spree, check out this list of 4 things to consider when creating your dog-loving Santa Barbara home:
Private Hideaway
Dogs are cave-dwelling creatures by nature and feel comforted by tight spaces. Instinct tells them they are safer in a smaller space. Dogs and wolves in the wild will sleep in caves for the first month or few months of their lives.

With that in mind, designers suggest homeowners consider creating a private hideaway for Fido or Fifi. It's easy. Just tuck a dog bed under your bed, or purchase a bedside table that is really a fancy dog crate. Think of it as a luxury kennel.

Or, as I mentioned above, consider devoting an entire room to your pet; a place that allows owners to shut the door. With a little design creativity, you can easily devise a private hideaway using a nook in any room of your home, or even in spaces of little use like under the stairs. Consider it your dog's nesting area.


Dog Den in the Kitchen
Built-in dog beds can keep your beloved pet tucked away in luxurious comfort in any room of the house. Many homeowners are choosing to create personal space in the kitchen: the heart of their home. Custom kitchen cabinetry can provide space to store leashes, food, toys, and other gear.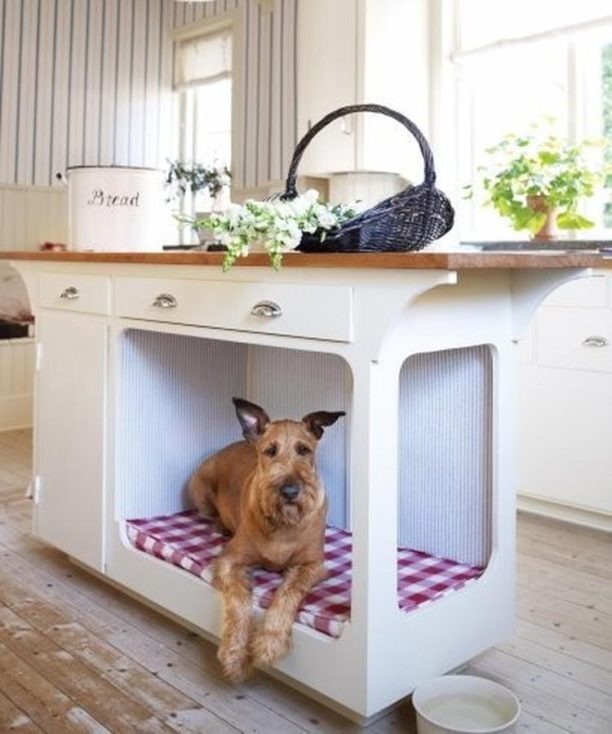 Other homeowners go so far as to remove a cabinet -- maybe beneath their kitchen island -- to create the perfect den for the family canine. That way, a dog can enjoy being in the kitchen with their family without getting directly underfoot during meal prep. It also provides dogs with the perfect spot to relax when they need alone time.

Everything in Its Place
Dogs accumulate stuff just like people do. For those who hate clutter, here's an innovative solution: install a kitchen pull-out using versatile shelves configured to provide storage for leashes, grooming tools and more; keeping them organized and out of sight when not in use.

To keep your pet's food area neat and tidy, repurpose a simple pull-out drawer to hold food and treats. Pet bowls should ideally be tucked out of the main traffic flow, too. A pull-out feeding area that can be tucked away when not in use is the perfect solution. And don't forget to add a built-in water fountain. Incorporate it into a wall niche and you'll never trip over the water bowl again!


Clean and Tidy
Responding to the growing interest in pet amenities, manufacturers are creating pet concept spaces. An outdoor shower is perfect for cleaning up muddy paws before your active pup tracks dirt inside. For older or arthritic pets, there are pet spas that offer the choice of a soothing soaker tub or whirlpool system with five full-size massage jets that provide hydrotherapy benefits.
Another excellent tip is to make sure your furniture is dog resistant. There are plenty of fabrics to choose from. You might also want one of the dog-friendly, fully washable rugs from Ruggable.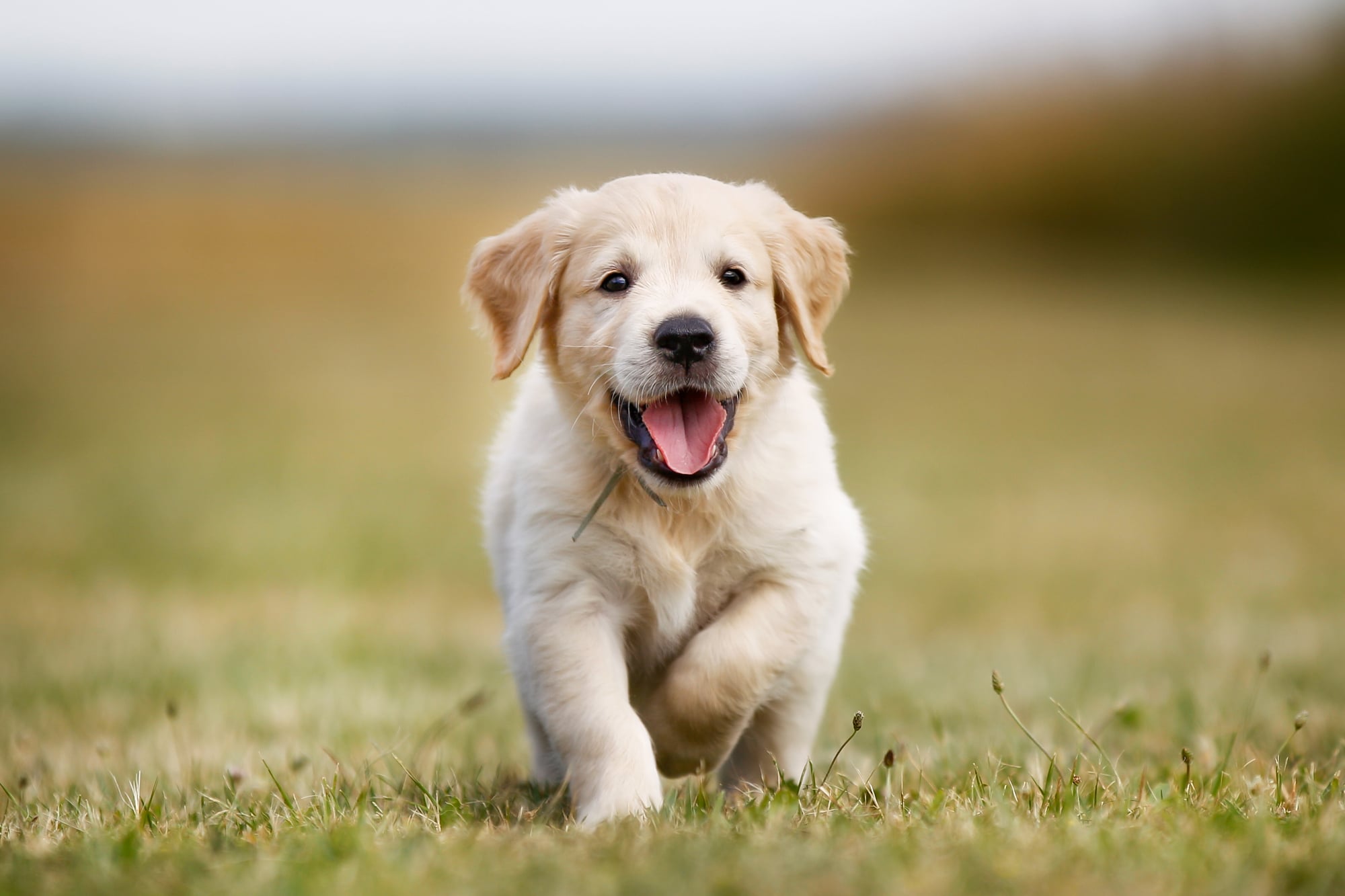 Creating your dog's dream backyard
A true doggie dream backyard isn't just about creating some kind of crazy canine playground but working to address both the wants and needs of your four-legged family member, then somehow fitting that in with the desires of the rest of the family. Whatever you decide, have fun designing an outdoor space for your dog with places to run free, go crazy chasing each other, and generally cause all kinds of hilarious havoc.
Here are some ideas that will appeal to dogs and still be safe for their human members of the pack:
Green the fencing
While putting up a fence is definitely the exact opposite of what most dogs would want, it is what they—and children—need to stay safe. But there is a way to make any backyard even more dog-friendly: place bushes along the edges or plant some creeping vines that will snake up the posts. As long as you choose things that are safe for kids and dogs, you'll make the space look and feel safe.
Shade cover
Yards without any shade aren't healthy for dogs or humans. Just like people, dogs can suffer from dehydration, sunburn, and heatstroke, so it's vital that they have shade— especially if you live in a warmer climate like we do here in sunny Santa Barbara. So, go ahead and plant some more trees as part of creating a dog-friendly home. They're good for the environment too!
Meandering paths
Dogs love wandering around paths, but it's important that you think about their comfort when creating some in your yard. Use materials that will stay cool and feel good to their paws. Choose from a wide variety of materials that fit this description; from concrete, to smooth rocks, pebbles, and even bricks. Just be careful with really small rocks if you have a toddler, because they can be choking hazards.
A watering hole
No dog's dream backyard is complete without access to fresh, clean water. While you can get fancy and invest in a doggy water fountain that connects to your outdoor hose, you can also stick to the basics and just buy a standard water bowl to keep outside. Whatever you choose, make sure to clean and refill it regularly. Some crazy dog lovers have even gone so far as building a pool and a playground for their beloved dogs.
Fueled by a desire to be loved and accepted as we are, we have naturally turned to our favorite furry family members for the encouragement we need. Shouldn't we give back to them? After all, Fido and Fifi are always happy to see us when we come home, and he or she forgives all of our shortcomings and errors with a wag of the tail. There is no remembrance of past grievances; the dog is the only constant companionship offering dedicated love, no matter what. Those qualities are hard to find in today's world. We value them immensely, and we take great joy in lavishing love, affection, and even money on our beloved canine pals.
---
Are you looking for a new home for you and your four-legged family member in Montecito, Hope Ranch or any of Santa Barbara's upscale communities? Then consider giving me a call at (805) 886-9378 or email me at Cristal@montecito-estate.com. I will happily add your listing to my portfolio of fine homes in the area and find your new dream home with plenty of space for Fido or Fifi.

---