7 STEPS TO FASHIONING A FELINE HAVEN
Today's home hunters are looking for pet-loving spaces like never before. That doesn't' exclusively mean designing the perfect dog-friendly environment. Creating a cat-friendly home acknowledges that cats are family too, hence their well-being is top of mind for many buyers. And for good reason.
READ: Creating a Dog-friendly Home?
Any cat lover will tell you that although felines are known for being aloof, independent, and seemingly indifferent to people, that's not universal among felines. They're beloved the world over and extremely popular on the Internet, with more than two million videos and 26 billion views on YouTube.
A sale at a Sotheby's auction of a massive 227-pound painting, believed to be the "world's largest cat painting," was bought in New York for $826,000. The piece, featuring 42 cats on a 6-foot-by-8.5-foot canvas, was so large and heavy that a special, reinforced wall had to be erected to display the masterpiece. Don't miss reading the incredible story behind the painting.
READ: Road Tripping Near Santa Barbara – With or Without the Dog
Although you missed the opportunity to own that incredible work of art, you can still create a haven for your feline family member by following these 7 steps: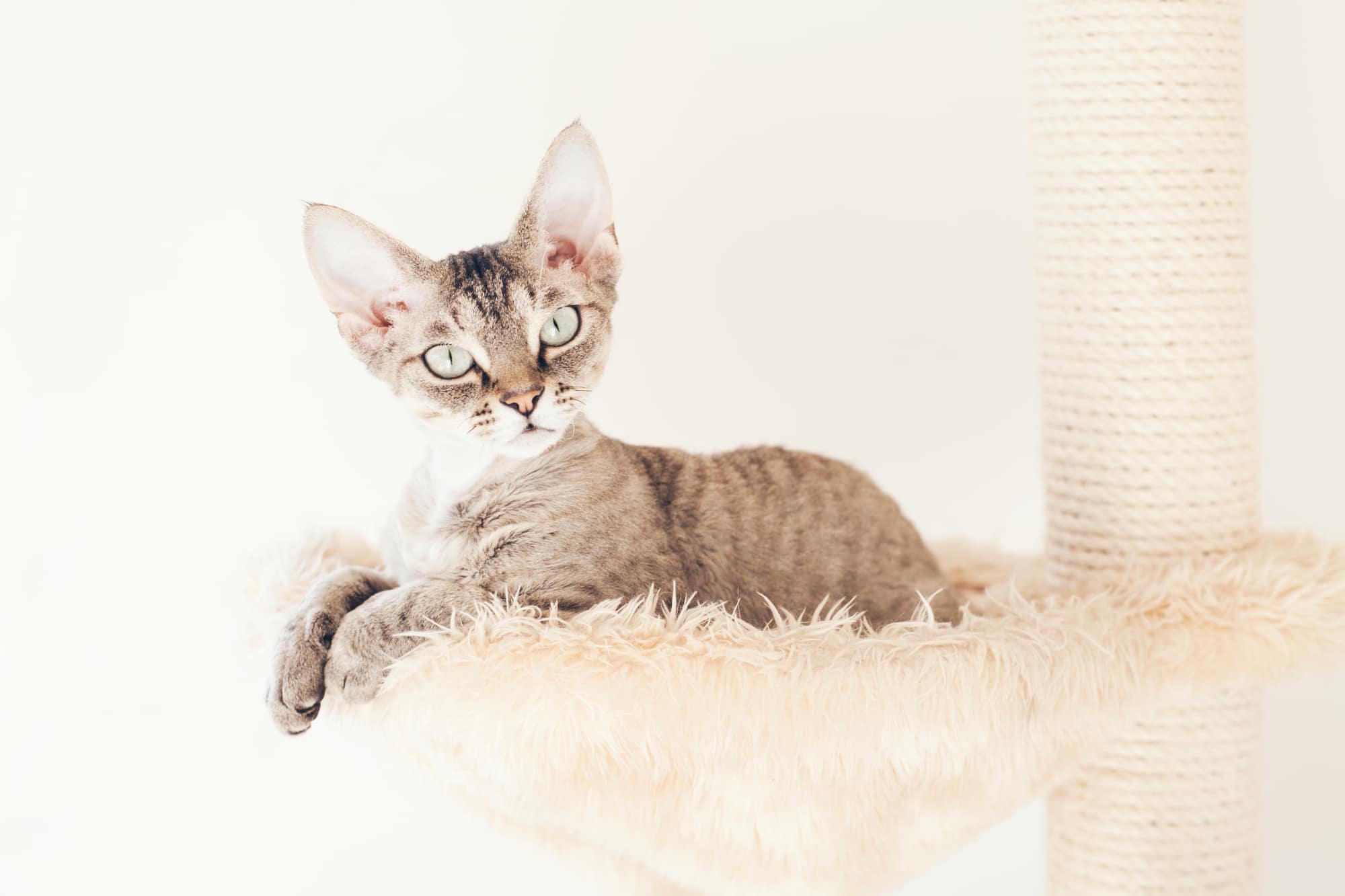 Add plenty of vertical space
Think vertical for your kitty. The creation of vertical space utilizing products like the Classic Cat Tree from Armarkat can transform a sour puss into a loving kitten. It opens up their space, makes it easier for cats in a multi-cat household to get along time-sharing their assets because there are enough spots to go around. Vertical kitty spots also let them survey their world from on high, and encourages exercise, sorely lacking for many indoor cats, by giving them somewhere to jump to. There are many awesome (and attractive!) ways to create vertical space for your cats: amazing cat trees, cat shelves, and the connection of several vertical spaces to create cat superhighways.


A kitty dining experience free of whisker stress
Did you know the high sides of your cat's dish bother his or her delicate whiskers? It's true. Whiskers are extremely sensitive. A wide, low-sided dish suits a cat's needs. Take The Artisan Feeder from Bowsers, for instance. It embodies utilitarian chic with low sides that won't bother your cat's whiskers. Plus, the neutral wood base and elegant white ceramic bowl add a touch of sophistication to dinnertime.


Think cocoon, not hideaway
Creating a cat-friendly home means creating spaces for your cat to hide away and snuggle up, alone. Just provide a spot for your cat to disappear in plain sight, like the Ombré Cat Cave from Karma Cat. Handcrafted by women's collectives high in Nepal with a blend of Tibetan and New Zealand wools is available online at distinctlyhimalayan.com.

This is the item that allows your cat to feel safe and secure. If he or she is able to hide by crawling into a secret spot nearby, you'll be able to help a nervous or scared cat build confidence and integrate with the family. Cats give it five paws up!


A room with a view
Cats love to look out windows and it's easy to create a lookout point with a window perch. You might never know what your cat is thinking about when they spend all day staring outside, but a perch is always a kitty favorite.


The multi-bathroom home.
"Cat Daddy" Jackson Galaxy recommends the plus one rule when it comes to cat boxes. He suggests cat owners count the number of cats they have and add one. That means if you have two cats, you'll want three litter boxes. Make sure they're situated in easy-to-use locations like near windows or in the bathroom that you use.


Just say no to gas station bathrooms
Cats want a clean and non-stinky place to do their business and who can blame them? Consider improving your cat's bathroom situation by upgrading to a litter box that fights odor issues. The design of the new Cateco litter box is clinically proven to reduce odors by up to 86% by fighting humidity and therefore bad smells. By optimizing natural air circulation, litter is able to dry properly, discouraging the growth of bacteria and fungus, a.k.a. the cause of stinky ammonia and other malodorous gases. Bonus—you'll need to change your cat's litter far less frequently!


Multiple scratching posts
There are a number of reasons your cat is choosing the sofa and the doorjamb of your bedroom to scratch. They are important locations for your cat. Simply put, your cat wants to leave his or her mark in these key outposts to indicate co-ownership (Aww, it's like a Facebook "in a relationship" status update!). Instead of tucking away scratching posts where you'd like them, place them in these spots as well as the other places your cat seems to want to scratch.

Make sure the scratching posts you choose are sturdy and offer a variety of scratching positions. Think horizontal, like the arm of your sofa; vertical; and inclined. Scratch ability is also important so make sure the ones you choose offer alternative places your cat can sink its claws into. Remember, cats aren't just making their mark when scratching but are also stretching their back muscles and removing the outer nail sheath.
READ: The Importance of Staging a Home
---
Since your cat spends the majority of his or her time in your house, it's important to make sure you're creating a cat-friendly home. And a stress-free kitty will make you want to stay home, too — especially when you find your new dream home in Santa Barbara, Montecito, or the surrounding communities. Please call me at (805) 886-9378 or email me at Cristal@montecito-estate.com and I'll happily show you what's on the market right now, as well as share my pocket listings.
---