THE AMERICAN RIVIERA® HAS BEEN A MECCA FOR THE WELL-KNOWN AND WELL-HEELED FOR OVER A CENTURY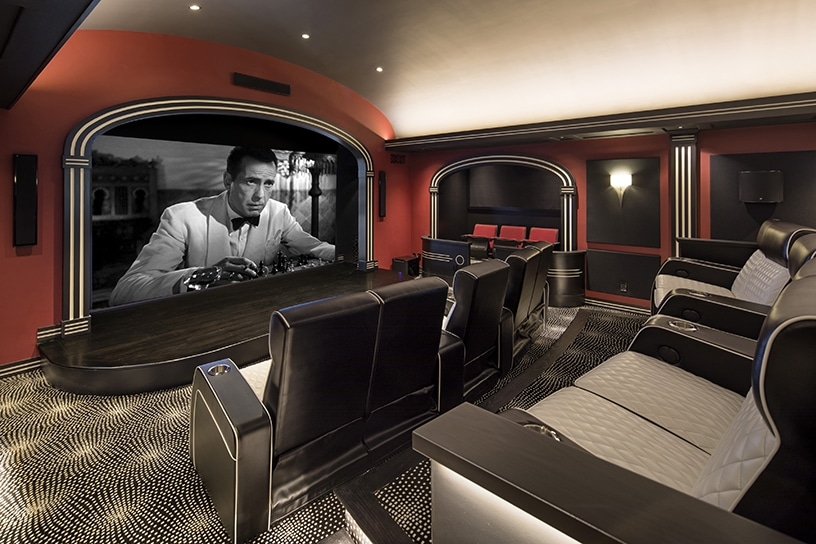 The Santa Barbara-Montecito area, also known as the "American Riviera," has been a magnet for the rich and famous for over a century. Celebrities living in Santa Barbara, as well as those visiting, can stroll down the street here without being ogled or hassled for an autograph or photo. In general, Santa Barbarans have an insouciant attitude toward celebrities, which is one reason why the town – and especially its most celebrity-filled enclave, Montecito -- have been such favorites among A-listers for generations.
A Wealth of Enticements for the Wealthy
Of course, those aren't the only reasons why everyone from Hollywood luminaries to captains of industry find this particular stretch of California's Central Coast so appealing. The wealth of other reasons includes the charming predominately Spanish Colonial Revival architecture, long stretches of south-facing beaches, Mediterranean climate, exceptional upscale dining and shopping options, cultural and recreational activities, and much, much more.
READ: Montecito's 93108 Zip Code: Consistently One of Forbes Richest
A Lengthy List of A-Listers
So, the fact that celebrities choose to live on the American Riviera is not so surprising. What might be surprising though is that Santa Barbara and Montecito are said to be home to more celebrities per square mile than Beverly Hills: that bastion of the well-known and well-heeled that lies just 90 minutes down the Pacific Coast. In fact, Santa Barbara has earned the moniker "Beverly Hills North."
It isn't just Hollywood stars that have chosen to make their home in Santa Barbara. The area has also long been a haven for quite a few literary luminaries as well. You might run into famous author T.C. Boyle, for example. The late Sue Grafton, who lived here until she passed away in 2017 at Santa Barbara's Cottage Hospital, was a well-known local. Crime fiction author Ross Macdonald was also a Santa Barbarian, as was his wife, the novelist Margaret Millar. Other literary-minded folks who've made SB their home at one time or another include Pico Iyer, Fannie Flagg, Gayle Lynds, and Arianna Huffington.
If you've spent time in the area, you've probably already had a celebrity sighting or two. The list of property owners here can read like a veritable who's who of movers and shakers in the entertainment industry. Many have purchased Montecito homes.
Among those who maintain, or have maintained, homes here are Oprah Winfrey, Kirk Douglas, George Lucas, Carol Burnett, John Cleese, Drew Barrymore, Julia Louis-Dreyfus, Charlize Theron, Brad Pitt, Angelina Jolie, Kenny Loggins, Kevin Costner, Rob Lowe, Ellen DeGeneres and Portia de Rossi, to name just a few. Oh, and we can't forget "The Dude," Jeff Bridges.
READ: Harry and Meghan: Montecito's Newest High-profile Residents
Silent Movies and Santa Barbara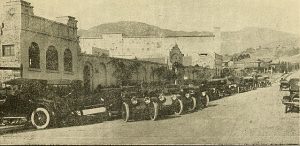 Flying A Studios c.1920. West Mission St., Santa Barbara, CA
That breathtaking backdrop can also be found in countless movies and TV shows dating back to the silent film era of the early 20th century. In fact, there used to be more than a dozen studios in town; the largest of which was Flying A Studios. Stars like Charlie Chaplin, Mary Pickford and Douglas Fairbanks, Jr. were frequent visitors.
READ: The Richness of Santa Barbara History
Around 1,200 movies were produced here back then, though only a fraction of those have survived. Movie titles such as Perils of Pauline (1914), Diamonds from the Sky (1915) and Rivers End (1919) were all filmed here.
And the Cameras Keep Rolling
Even after film production moved south to the Los Angeles area after the 1920s, the industry's movers and shakers kept coming back to Santa Barbara – as they still do to this day. With its iconic look and unbeatable climate, Santa Barbara is still a top choice for movie productions today.
From Stearn's Wharf, the Mission and State Street, to the rolling vineyards of the nearby Santa Ynez Valley Wine Country, Santa Barbara County is an exceptional place for film productions.
For example, just off the Santa Barbara coast you will find San Nicolas Island, where Colonel Matrix (Arnold Schwarzenegger) saved his daughter in Commando (1985). Did you know that scenes from the Pirates of the Caribbean III: The World's End (2007) was partially filmed at the beaches near Santa Maria? Or that both Friday the 13th: The Final Chapter (1984) as well as Friday the 13th Part III (1982) have scenes filmed in Santa Barbara?
You Al Pacino fans might not be aware that the actual location for his character Tony Montana's Miami home in the hit movie Scarface (1983) is actually located at 631 Para Grande Lane in Montecito.
Not many communities can say they had a soap opera named after them. Santa Barbara aired on NBC from July 30, 1984, to January 15, 1993. The soap showcased the eventful lives of the wealthy Capwell family living on the American Rivera. Since then, The Bachelor, The Real Housewives of Beverly Hills and many other popular television shows have filmed in Santa Barbara.
Then there is the annual Santa Barbara International Film Festival, a 501(c)(3) non-profit arts organization dedicated to discovering and showcasing the best in independent and international cinema. Today, SBIFF is known as one of the leading film festivals in the United States.
A Book of Facts and a Few Secrets
In fact, Robert L. McCullough and his wife, Suzanne Herrera-McCullough, wrote an entire book about film and television luminaries here: Where Hollywood Hides – Santa Barbara: Celebrities in Paradise. The McCullough book celebrates the Santa Barbara-Hollywood relationship; paying homage to some of the show business personalities who lived here: from Charlie Chaplin, known for building the landmark Montecito Inn, to Santa Barbara's current most famous resident: Oprah.
CELEBRITY HOMES: SANTA BARBARA SANCTUARIES OF THE FAMOUS
Oprah's Home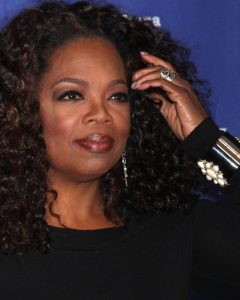 Oprah Winfrey at the Santa Barbara International Film Festival
The world's most famous television talk show host, Oprah Winfrey, famously purchased amansion in Montecito a few years back. She bought the estate for $48 million while on vacation. It didn't take Oprah long to fall in love with Montecito. Her Montecito palace is a fully renovated estate that includes 6 bedrooms, 14 bathrooms, 10 fireplaces and a modern high-tech gourmet kitchen. It also has a state-of-the-art theatre, a wine cellar, a barn, orchards, two ponds, an outdoor theater, tennis court, a 4,500 sq. ft. guest house with a pool, an outdoor entertainment area, and even a man-made lake stocked with fish. Like many homes in the area, it has both mountain and ocean views.
Ellen's Estate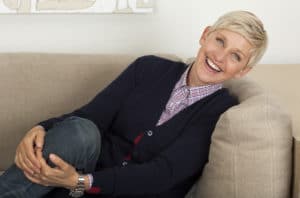 Another famous talk show host, Ellen DeGeneres, along with her wife, Portia di Rossi, bought a 13-acre estate in 2013 for $22.5 million. That was quite a deal for the two-story property listed for $26 million. Built in the late 1920s using locally quarried stones, the 10,500 square foot home has nine fireplaces and a Roman column standing in the garden that dates from 200 B.C. In fact, Ellen has purchased, renovated and sold several homes in Santa Barbara County, including in Montecito, Carpinteria and the Santa Ynez Valley.
George Lucas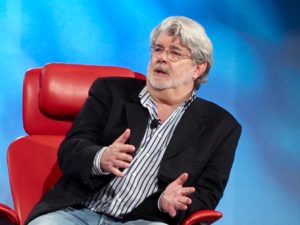 "Star Wars" creator George Lucas plunked down about $25 million for his spectacular beach house in Santa Barbara. With an estimated fortune of $3.25 billion, he snapped up the 1.7-acre estate when the price was reduced from $37.5 million. Built in 1980, the 3,540-square-foot home has 4-bedrooms in the main house, with walls of glass facing the beach. The 2-bedroom guest house also has amazing ocean views. There's also a lap pool, exercise room and yoga studio.
Neverland Ranch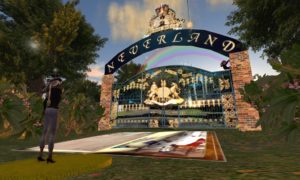 The historic landmark once owned by Michael Jackson is also located within Santa Barbara County. The King of Pop lived in the magical paradise getaway in the Santa Ynez mountains for more than 20 years. Named after the fantasy island in the story of Peter Pan, the ranch was fully staffed when Michael and his family lived there. It even had its own theme park and a mini-zoo that housed two tigers, four giraffes and three chimpanzees.
To this day, there are still several barns on the property, and a petting zoo with goats.
In 2009, Thomas J. Barrack Jr., an American private equity real estate investor, purchased this historic landmark in his conquest for distressed celebrity properties. The property hit the market again in 2015 for $100 million.
CELEBRITY WORTHY HOME FOR SALE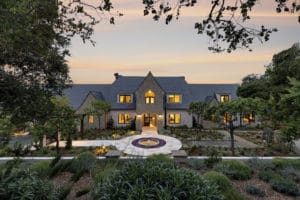 This estate was actually owned by a celebrity: revered comedian Johnathan Winters and his wife Eileen. The property sits on 3 acres and comes with countless luxury amenities to enjoy from a beautiful infinity pool and spa to a movie theater reminiscent of Old Hollywood. There are stunning views of the both the ocean and the Santa Ynez Mountains. Very private, secure and seemingly far from the madding crowd, the estate is just minutes from Montecito's charming Upper Village.
Other Celebrity Homes for Sale
There are many other celebrity-worthy homes for sale in Montecito, Hope Ranch and other upscale communities in and around Santa Barbara. Call luxury agent Cristal Clarke at (805) 879-5000 or email her at Cristal@montecito-estate.com.