THE STATE OFFICE ENERGIZING CALIFORNIANS TO SERVE THEIR COMMUNITIES & NEIGHBORS
In a previous blog post, I shared important information regarding Santa Barbara and Montecito's non-profit organizations in need of financial help to continue their life-saving work during the coronavirus pandemic. Today, I want to share information about California Volunteers, a new volunteer initiative and website designed to connect California residents who are looking to give back through volunteer opportunities in communities and across the State, including in Santa Barbara and Montecito.
The new website, californiavolunteers.ca.gov, provides volunteer options, including working at food banks, donating blood, delivering meals, or joining the California Health Corps. To get started: Join!. Watch this news report from KSBY for more information.
About #CaliforniansForAll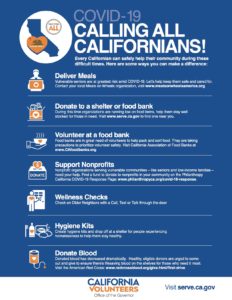 click on poster to open
#CaliforniansForAll is dedicated to engaging Californians in service through volunteer and civic actions designed to tackle our State's pressing challenges; especially now during the COVID-19 crisis. There are more than 80 programs to choose from, including ones designed to lift up our communities in Santa Barbara and Montecito.
TheAmericiCorps portfolio of programs, administered by California Volunteers, are specifically designed to provide critical services to more than 160,000 Californians annually. According to Governor Gavin Newsom, anyone interested in helping out will be matched to an opportunity based on their expressed interests in their local community.
"Rather than you initiating your interest, we want to make sure we engage with you," Newsom said, adding that organizers would continue two-way conversations with potential volunteers and connect weekly through email. From our zoomers to our boomers, we want you to volunteer."
Local California Volunteers Opportunities
Here are some of the ways Santa Barbara and Montecito residents can volunteer to help:
Support Food Banks & Shelters
Food banks are at the front lines keeping vulnerable Californians connected to food and they need your help. Local food banks are in great need of volunteers, food donations, and funds. The Foodbank of Santa Barbara County is one of California's best!
Donate Blood
Blood donation is essential, especially amid the COVID-19 outbreak, so residents are urged to make an appointment today. Santa Barbara and Central Coast blood donations are coordinated via the Vitalant website.
Deliver Meals to Seniors in Need
We all know that vulnerable, older adults are at greatest risk amid COVID-19. Now is the time to help keep them safe and cared for by delivering meals to their doors. Learn how to become a volunteer at Santa Barbara Meals on Wheels. Plus, after we recover from COVID-19, you might want to continue your valuable volunteer work with them.
Check-in on Neighbors
Speaking of vulnerable older adults, now, more than ever, it is important to do regular safety checks with your senior neighbors. You don't even have to leave your home to do this. Just call, text or video chat with them.
Join the California Health Corps
California is determined to be prepared should there be an increase in the number of people who urgently need health care due to the COVID-19 outbreak. To meet this possibility, Governor Newsom is calling on healthcare professionals to join the California Health Corps.
Sign up to help at one of the many Volunteer Centers
Volunteer Centers connect volunteers to nonprofits and public agencies that need help. Here's a list of all California Volunteers Centers, with links to their websites.


Make Face Coverings
Simple face coverings can easily be made at home. If you are good with a sewing machine and have some extra fabric, why not use your creativity to help others? Here are the instructions from the CDC on how to safely make cloth face coverings.
Become a "Disease Detective"
Our local Public Health Department is also on the lookout for volunteers, specifically for contact tracers, nurses, investigators, interviewers, drivers, and outreach workers. All work will be performed both remotely and within specific communities. Clinical degrees are needed for some positions, and an ability to speak languages other than English in a boon in some types of participation.
"Whether you have a background in a particular health-related field or you're looking for a way to serve your community, Santa Barbara County needs you," said Van Do-Reynoso, who heads up the county's Public Health Department.
In a recent blog, I shared details about Public Health's expanded mass screening that are currently ongoing in Santa Barbara County. Nearly 2,000 people are tested every day. That is where the work of public health "disease detectives" comes into play. These volunteers are what prevent COVID-19 from exploding out of bounds.
Are any of the California Volunteers programs the final answer when it comes to the public health and economic crisis we face at this moment? Sadly, the answer is no. But, California is leading the way in an important part of an answer. And that part is to volunteer and work together. And I, for one, feel so blessed to live in a state that celebrates volunteerism.
---
If you want to stay up-to-date on COVID-19-related news and events locally, as well as on real estate news and more, subscribe to my Blog via the form on the righthand sidebar on this page. Of course, I'm also here to help any of my fellow Californians find a new home in a Santa Barbara area community or neighborhood. Just give me a call at (805) 886-9378, or drop me an email at Cristal@Montectio-Estate.com.
---