PREPARATION IS KEY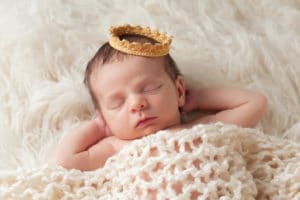 In honor of Prince Harry and Duchess Meghan Markle's royal bundle of joy, Archie Harrison Mountbatten-Windsor, I thought I'd offer some important ways to prepare for a newborn. A sort of "baby checklist." If you're currently pregnant, you likely have a handle on the big stuff: diapers, car seats, strollers, etc. But you may be wondering what else you should do to get your castle ready for your new infant. Here's a list of 10 things you need to do before you bring your little one home:
Give Your House A Safety Exam


Make sure your entire house is a baby safety zone. It may seem a lifetime away, but in no time, your new tiny bundle of joy will be mobile; getting into everything. It's best to prepare ahead of time, instead of waiting until you're sleep deprived, to babyproof your home.

First and foremost, get rid of any toxic chemicals in the kitchen and bathroom. The American Academy of Pediatrics cautions that cleaning products, including laundry and dishwasher pods, and medication should always be stored out of sight and out of reach in securely locked cabinets.
Use magnetic locks on any cabinets that are not out of reach.
If you have firearms in your home, remove ammunition and lock it away in a place separate from the gun. Store those keys in a different area from where you keep your household keys.
Finally, check or install smoke and carbon monoxide detectors.

Get Prepared for Visitors


Experts recommend preparing for overnight guests before baby comes home. The nanny, or a volunteer helper -- whether family or friend -- will need a place to hang her or his hat. The last thing a new mom wants to do is race around searching for sheets and towels the moment she gets home from the hospital. Stock up on toothpaste, toothbrushes and toilet paper, too.

Get some sleep


You're going to be tired. Very tired. Exhausted, even. Getting up in the middle of the night to go to another room to feed and soothe your baby may seem impossible. Instead, get a co-sleeper or a bassinet. That way, your newborn can sleep right next to you, out of harm's way. Life will be much easier if you can easily feed the newborn, put him or her back in their bed, and immediately fall back to sleep yourself.

Make Room in the Kitchen


Even though your baby will start on an all-liquid diet, you'll still need to make room in your fridge for breast milk and formula. Experts recommend new parents give their refrigerator a good cleaning prior to creating space. Wipe down the shelves with a warm sponge, scrubbing especially sticky spots with diluted white vinegar. Do the same with the shelves in the door. When you replenish your fridge, make sure you leave plenty of room for the needs of your new family member. Your kitchen counters might suddenly feel crowded with pump parts, bottles, nipples, pacifiers, and teething toys; all needed to be sterilized. Experts no longer suggest you boil them. Studies show that hot, soapy water will kill common germs.

Smooth the Edges


Your interior decorator may have done an excellent job creating the look you wanted with sophisticated furniture made of glass and/or metal. Unfortunately, glass and metal aren't baby-friendly. In fact, they can cause injury. That's why you need to remove anything that is breakable or has sharp edges. If you can't bear to part with it, put it far out of reach or protect the edges with plastic guards so baby won't get hurt.

Lock it Down


Once your baby can crawl around and pull up, he or she will get into everything, and I mean everything. New parents should cover all electric sockets, get safety latches for cabinets and get rid of any and all magnets. Make sure you don't have any dangling cords, either for window blinds or appliances. You might feel foolish, but try crawling on the floor to see what dangerous things babies can find that you might not even consider.

Rockabye, Baby


Babies find gentle bouncing or rocking soothing because it reminds them of their time in the womb. With that in mind, a good baby checklist includes creating a special place in your home designated for rocking your precious gift. Just find a comfy seat to put in a quiet place so you can sit and bond with your infant. It can also be a good idea to find a safe swing or a chair where your baby can rest by herself or himself.

Organizing the Nursery


Feeling the urge to nest is perfectly natural. It is also useful. Before your water breaks, buy some diapers, but don't overload on newborn sizes because infants grow very quickly. The same goes for newborn clothing. Avoid the mistake many new mothers make of washing, folding and putting away all of the adorable newborn onesies. If you give birth to a large girl or boy, none of those newborn items will fit.

Prepare Baby Bed


Experts caution not to use any bumpers, blankets or pillows in your new baby's bed because of the risk of SIDS. Instead, just swaddle your baby. Swaddling is actually a sleep aid for newborns. You can also use a sleep sack, which will keep him or her warm and toasty.

Don't Lose Sight


New parents who live in Montecito might find it difficult to keep an eye on their baby all the time due to the sheer size of their home. But that's an easy fix. Just invest in a baby monitor. That way, you'll hear when the little one cries. These days, you can get video monitors and apps for your phone so you can see for yourself that your newborn is safe and sleeping soundly.
---
Do you have other tips for a baby checklist? I'd love to hear them. Meantime, If you're considering moving in Montecito, Hope Ranch or any of Santa Barbara's upscale communities with your new baby in tow, read my previous blog, Tips for Moving with Children. Planning on moving to or into the area? Call me at 805.886.9378 or email me at Cristal@montecito-estate.com.
---