THE FITNESS INDUSTRY JOINS THE WORLD OF FINANCE
Fiscal fitness is a piece of financial advice that is nothing to scoff about. It's real. By investing in your health, you can also improve your bank account. We all know the importance of diet and exercise, but now there's proof that your health does indeed affect your wallet.

As I stated in a recent blog, Santa Barbara is one of the best places to live, according to Livability.com. One of the things that adds to the value of living here is the abundance of recreational activities those who live here can enjoy year-round. That's why I immediately thanked my lucky stars that I live in such a healthy place when I saw a Johns Hopkins Bloomberg School of Public Health study that suggests investing in your health can save you money. That's right. The study says weight loss at any age combined with exercise can save you money because life is costly when you're overweight – and it gets more so as you age.
Johns Hopkins University's Executive Director of Global Obesity Prevention Center (GOPC), Dr. Bruce Y. Lee, recommends everyone view their health as an investment, not a cost. He says, "When you're doing things to maintain or improve your health, you're actually potentially saving significant amounts of money."
Interesting findings regarding a person's weight include:
Direct medical costs and productivity losses for an obese 20-year-old adult could cost in excess of $17,655 over their lifetime. That money would be saved if the person just dieted to the point of becoming overweight instead of obese. If they went down to a healthy weight, they'd save as much as $28,020.
Direct medical costs and productivity losses for an obese 40-year-old adult could cost them an average of $18,262. If that some person got down to a healthy weight, they'd save about $31,447 in their lifetime.
While staying at a healthy weight at any age is a good thing to strive for, the cost savings peak at 50. Still, going from obese to a healthy weight can save an average of $36,278 for seniors.
"Sometimes people think, 'Oh well,' once they've gotten past a certain point, there are diminishing returns, or some people say, 'Well, I've lived this long with a certain lifestyle, why do I have to change now?' But this shows that at all these different ages, there (are) benefits to losing weight," Lee says. "And I think that's important."
And it's not only the obese person who pays for that extra weight. Employers, third-party payers like insurance companies and Medicare, and society as a whole all benefit when people stay at a healthy weight. By monitoring your weight, you can steer clear of diabetes because your blood sugar will be normal at a healthy weight. Losing weight can also stop the progression, or even reverse Type 2 diabetes.
"There are situations where you can see fairly quick effects," Lee says. "The same thing is true with things like blood pressure, etc. – when people lose pounds, those indicators can stabilize or normalize. And also, people start feeling better as well."
Interesting findings regarding exercise include:
According to another study, this one by the Journal of the American Heart Association (AHA), exercising regularly will also mean more money in your bank account. Those who ride their bike, walk, or do about any type of exercise spent $2,500 less, on average, in health care costs than those who didn't meet basic exercise guidelines. The study goes on to say that if only 20% of sedentary people who suffer from cardiovascular disease began to exercise regularly, we'd save billions of dollars in the U.S each year on health care costs. That's a lot of money we could save just by exercising!
How to Improve your fiscal fitness:
"Investing in your health," for those of us fortunate enough to call Santa Barbara home, doesn't have to mean joining a gym to exercise regularly, although we do have some fine gyms in the area. If you'd rather work up a sweat outdoors, try SWEAT Outdoors, which caters to a growing population of people who desire to get out of the gym and workout in the beautiful Santa Barbara outdoors. You can meet other like-minded people and work out at our local parks, beaches, and trails. By getting outdoors and leaving the potentially dirty, smelly, recycled air and people-watching gym scene behind, you will not only develop a fitter, functional body, you will also cultivate a healthy mind.
"When you exercise in nature, your mind and body must negotiate elevation gradients and surface textures — grass, sand, stones and tree roots," says Amanda Joyce, a West Los Angeles certified personal trainer. "These enhance body awareness, balance, reaction reflexes, and neuromuscular coordination."
In addition to Sweat Outdoors, Santa Barbara offers residents plenty of things to do outside. You can hike, golf, try stand-up paddleboarding, kayak, surf, horseback ride, or just walk around our picturesque town to see the amazing Spanish Revival architecture. You can also take a stroll through the Santa Barbara Botanic Garden or Lotusland, one of the world's 10 best gardens.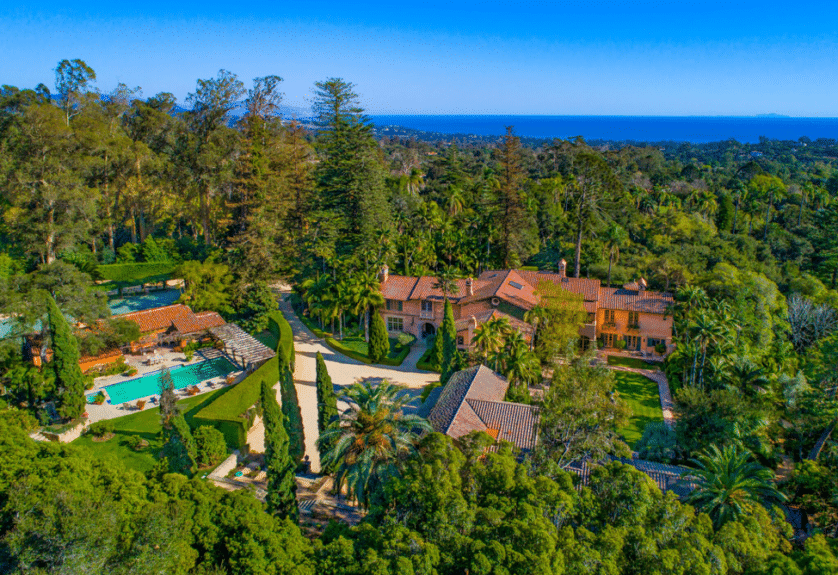 If you buy the Grand Montecito Estate called Palmyra, you'll be investing in your health by getting plenty of exercise walking the incredible 4.5-acre property. Just enter the elegant entry gates and you'll be greeted by a long, serpentine driveway lined with tall hedges and mature trees. There are rolling lawns, impeccably trimmed privets, tropical and native flora, citrus trees, flower gardens, a lagoon, pergolas, and fountains to explore.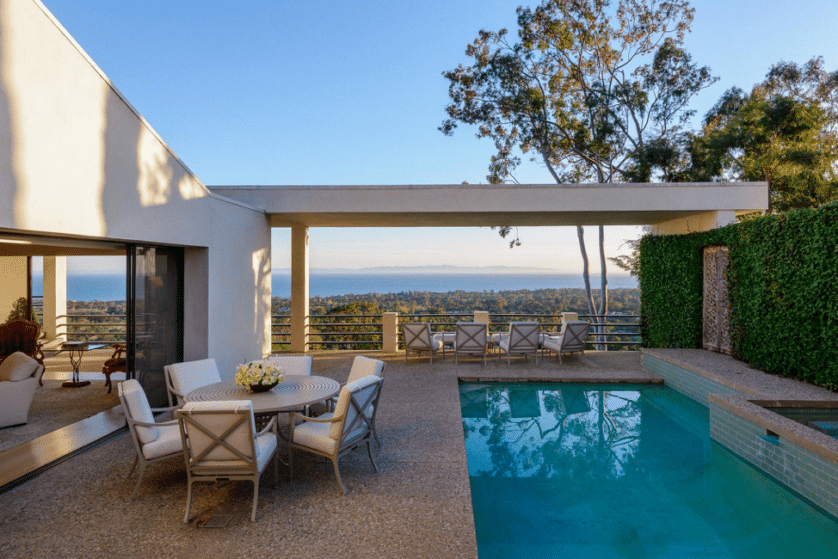 Taking a daily swim in your own pool can also lead to fiscal fitness. If you like to swim and you're a fan of Mid-century modern, then you'll love this Montecito Masterpiece of Modernist Architecture. Imagine waking up every day and opening the glass portal to the plunge pool for some laps. The manicured grounds of this amazing property also have places for reflection and meditation in the form of vine-covered pergolas, as well as inviting walking paths.
Or you might want to visit East Beach and play some volleyball, bike through Elings Park or walk your dog through Douglas Family Preserve. If you're into Yoga, sign up for the outdoor yoga meet-ups in Santa Barbara. We even have our own rock climbing gym and plenty of areas to climb outside when you get comfortable with your climbing skills. We get the benefit of our perfect year-round Mediterranean weather too!
---
If you're ready to follow this financial advice and improve your fiscal fitness, a move to Santa Barbara or Montecito – or a move within our world-class communities -- is a good way to start. All you have to do is call me at (805) 886-9378 or email me at Cristal@montecito-estate.com. I'll happily share more of my favorite activities and how I manage my own fiscal fitness just by living and working in Santa Barbara.
---