THE COMMUNITY CELEBRATES ITS FIRST MICHELIN STAR EATERY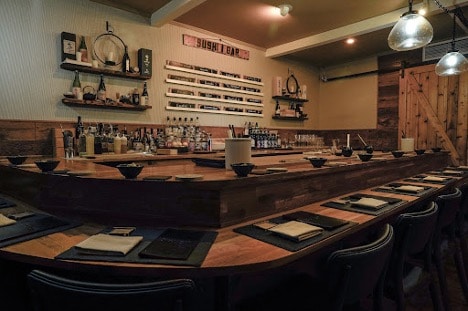 Attention Montecito foodies: the flourishing culinary scene here just got better with the first Michelin Star Montecito restaurant. In fact, Sushi | Bar Montecito is one of three eateries on the Central Coast to make the list this year: another first. Situated inside the historic Montecito Inn on Coast Village Road, Sushi | Bar Montecito is the creation of chef-owners and husband/wife duo Phillip Frankland Lee (a contestant from TV's "Top Chef Season 13," "Chopped" and other shows) and pastry chef Margarita Kallas-Lee.
About Sushi/Bar Montecito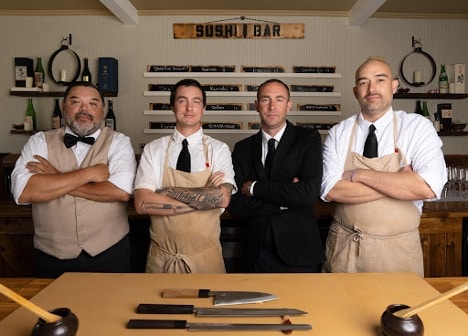 Owner Frankland Lee recently told the Montecito Journal, "This is all I've wanted for a very, very, very long time." Lee's uber popular Pasta Bar in Los Angeles was also awarded a Michelin star. "To be awarded stars at two of my restaurants is something I never thought would be possible," Lee added proudly.
READ: The State Street Promenade: Santa Barbara Al Fresco

Sushi | Bar Montecito offers a 10-seat chef's counter, where patrons can dine on a 17-course omakase or "chef's choice" menu right in front of the action. The constantly changing surf and turf menu features the delicious, fresh local seafood we have in abundance here, including Santa Barbara sea urchin, spot prawns, and local halibut. Passionate and lively chefs, like head sushi chef Lennon Lee, add to the ambiance. Foodies are sure to be amazed by what the team at Sushi/Bar Montecito can do with their favorite dishes.
READ: 20 Things to Love About Santa Barbara

The Montecito restaurant's drink pairings are curated by Scratch Restaurants Food and Beverage Director Gavin Humes. Think Japanese beverages: from sake and beer to Japanese whiskey.
Then there's the room itself, created to enhance the dining experience. Designed by Frankland Lee and Gabriel Wischmeier the dimly lit Montecito restaurant, enveloped in honeyed oak, seems to glow in amber. The combination invokes the feeling of traditional Japanese sushi bars from the 1930s.
Reservations are required. Call (805) 845-9310.
The MICHELIN Guide
The Michelin guide is globally renowned for its revered star-system where inspectors of different nationalities assess restaurants around the world each year. Their assessments are made based on five objective criteria:
quality of the ingredients used
mastery of flavor and cooking techniques
the personality of the chef in his cuisine
value for money
consistency between visits.
In a nutshell, the Michelin star is a sign of quality.
Here's what the seasoned inspectors had to say about Sushi/Bar Montecito:
"Though it's nestled next to the tony Montecito Inn, this is no ordinary omakase eatery. Head sushi chef, Lennon Silvers-Lee, hails from Van Nuys, not Japan, and his nigiri are not just supremely finessed but also infused with original touches—like the dab of sweet corn 'pudding' and crunchy sourdough breadcrumbs that coat slices of hamachi, or the tart and spicy pool of leche de tigre that is poured around a Peruvian scallop. Even the traditional pairings, like lightly torched otoro with fresh-grated wasabi, become transcendent with a touch of the chef's soy sauce, which ferments on-site for nine months.

The iconoclastic vibe extends to the beverage pairings. They begin with an exquisite cocktail, then cleverly veer from sake to beer to wine back to cocktails, depending on what each of the dish's demand.

Despite such originality, Sushi | Bar does indeed adhere strictly to one omakase tradition: a tiny counter, with seating for just ten guests. The fewer guests, the more to ensure exquisite, personalized service. The two hours pass in a blissful haze of convivial conversation, all set to the soothing tones of jazz. Even after the last bite of matcha and Makrut lime ice cream, you won't want your time here to end."
READ: The Fine Art of Outdoor Dining in Santa Barbara
Other Exceptional Restaurants in Montecito
While Sushi | Bar Montecito is the only Montecito restaurant to receive a Michelin star, there are several others that will tantalize anyone's tastebuds. In fact, Montecito abounds with incredible restaurants serving up innovative, delicious fare.
Here's a rundown of some of my personal favorites:



For breakfast, there's nothing like starting the day at Bree'Osh, Renaud's Bakery, or Jeannine's Bakery. Vegans and meat-eaters alike rave about Oliver's, which specializes in upscale plant-based cuisine for lunch and dinner.
In my view, Tre Lune and Pane E Vino are the top spots for Italian, while Los Arroyos tops the list of delish sit-down Mexican restaurants in town.
READ: Tips and Tricks for Organizing Your Kitchen — Again
Lucky's steakhouse is a Montecito restaurant institution. The martinis alone are just as classic as the people watching. The Honor Bar is equally enticing for eats, drinks, and a lively crowd, including some of our favorite celebrity residents, Prince Harry, and Meghan Markle.
Montecito Country Mart is a dining destination. This is the place to enjoy casual staples. Other local go to dining spots include Panino when you're craving a satisfying sandwich. Pair Neapolitan-style pizzas and farm-fresh salads with perfect negronis at Bettina Pizzeria. Savor organic fare crafted by acclaimed pastry chef Elizabeth Colling at Merci Montecito. Perk up with a coffee at Caffé Luxxe or a fresh juice and plant based snacks at Pressed Juicery. Have a sweet tooth to satisfy? A scoop or two of Rori's Artisanal Ice Cream will do the trick, I promise.
If you're not staying at one of Montecito's premier resorts, dining and drinking on property is the next best thing. Besides the Michelin Star Sushi|Bar Montecito, foodies can sip and savor in style at San Ysidro Ranch's Stonehouse or the more casual Plow & Angel. And who doesn't enjoy eating and drinking their way through the Rosewood Miramar Beach's Beach Bar or Caruso's.
---
There's no arguing Montecito restaurants, with or without a Michelin star, are some of the best in the country, but if you're looking for a new home with your own gourmet kitchen in Montecito or any of Santa Barbara's luxury enclaves or neighborhoods, give me a call at (805) 886-9378, or email me at Cristal@montecito-estate.com. I will happily add your listing to my portfolio of amazing estates for sale and find you a new home at the same time.
---