MINIMIZE PROCRASTINATION AND MAXIMIZE PRODUCTIVITY
For most Montecito homeowners, their home is their castle. Today, your abode can also be the central command post for your business. As the king or queen of your castle, you are free to design and decorate the perfect home office to your exact specifications. But where do you start?
Justin Klosky, CEO, and co-founder of the O.C.D. Experience (Organize & Create Discipline), explains it like this, "Trends come and go – but no matter the Pantone Color of the Year, my forever favorite trend is a minimal aesthetic. Keeping your desk space clean with little, non-distracting touches of personality here or there makes a difference in productivity and helps keep your head clear."
The 8 steps:
Step 1: Location, location, location
When creating the perfect minimalist home office, choose the location carefully. First, consider noise and traffic factors. Second, consider the traffic inside your home. If you plan to work in your office when the rest of the family is at home, choose a room that's not too close to the kitchen, bathroom or family room.
Those places can mean lots of activity which could easily interfere with your productivity. On the other hand, for those with small children, it might be best to place the office relatively close to their playroom so you can monitor their activity.
Step 2: Consider a minimalist approach
Although traditionalists and old school creatives would beg to differ, these days office space usually requires a minimalist approach to make it look professional. Paint the walls a soothing, light color. Avoid heavy and excessive furniture to facilitate the use and flow of space.
As with minimal design in any room, it's vital to keep your minimalist home office free of clutter that can be distracting and make it hard to focus. A mess can also make it difficult to find important documents or items.
Ideally, your office will contain nothing more than a high-quality office chair, a desk with storage space, a computer, a telephone, office supplies, potentially a filing cabinet and a few personal touches. If you are holding meetings in your home office, then you will need space for at least one extra chair.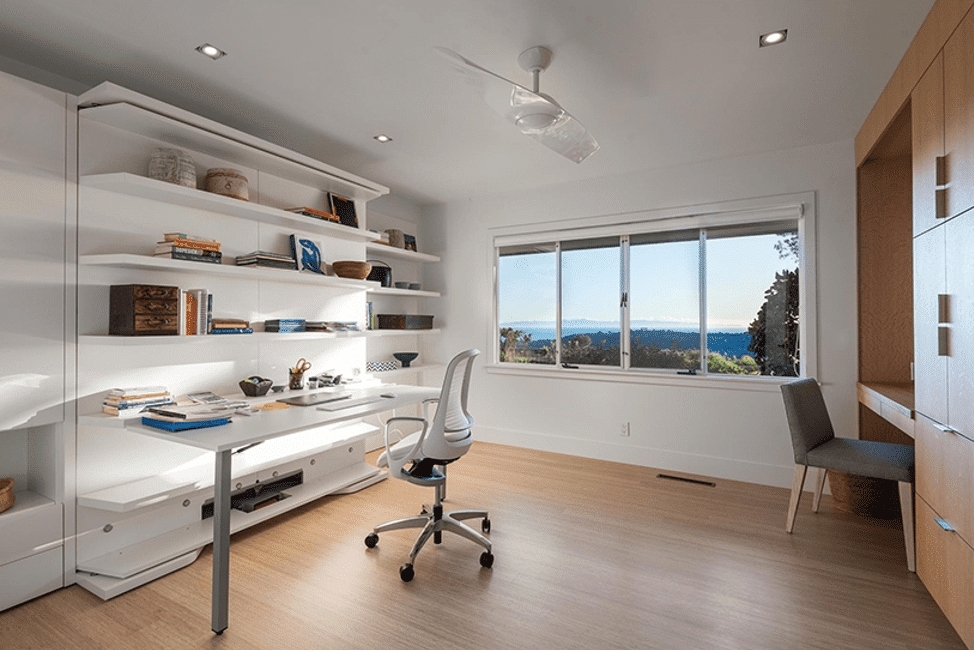 Step 3: Cut (or hide) the cords
Wireless printers and scanners are one way to keep those ugly wires out of view and reduce the chances of tripping over them. Experts recommend a two-in-one laptop paired with a wireless charging mat, wireless keyboard, and thunderbolt docks if you need dual displays. However, if you don't have wireless equipment, you can hide 99% of your wires from being seen with a crafty combo of PVC piping, Velcro and zip ties to mount power sources under desks and out of sight.
Step 4: Avoid paper clutter
Ask yourself if you really need to keep all of those documents that clutter your desktop? Klosky advises readers to go paperless.
"Goodbye Rolodex and planner – by digitizing your address book and keeping your calendar online, your network is literally at your fingertips, whether you're on the go or while you're working from home," he says. "Digitizing also allows you to scan and shred documents for recycling, preventing the further use of paper and saving the planet."
Step 5: Go green
Working at home is better than being in a stuffy office building, but you're still indoors. However, greenery can help you bring the outdoors inside. Adding green touches is easy on the eyes and helps us feel more connected to nature.
"A plant, for example, brings a low-key source of life and color to any room," Klosky says.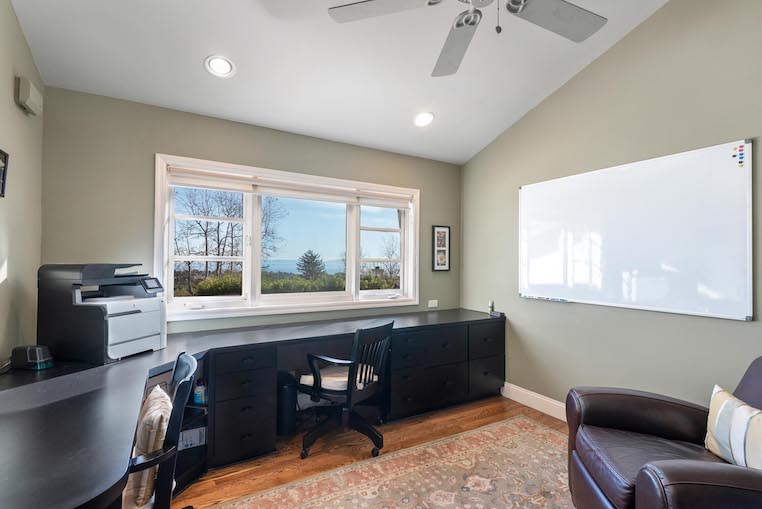 Step 6: Let the light in
We've already discussed why your minimalist home office needs to be in a quiet area, away from distraction. It should also be somewhere with lots of natural light. Natural light has many health benefits and can help to create a clean and fresh feeling.
Recent studies show that people who work in natural light are more productive, absorb more vitamin D, sleep better at night and have fewer eye problems. If that's not enough then consider the fact that light can also improve your mood. If you need another reason to put your office in a location that allows you to take advantage of natural light, consider all the money you could save on your electric bill.
Step 7: Blend in
When decorating, think about how the room will blend in with adjacent areas. The style choice and colors should be complementary, not clashing. And by all means, pick a comfortable desk. It's your work surface and it's a critical element in any minimalist home office. Make sure your desk gives you enough room to stretch out. Also, invest in a great chair. Think beautiful, ergonomically correct, and comfortable.
Step 8: Add inspiration
Although Klosky recommends a minimalist approach, he says homeowners should have space in their office for personal items. Sometimes, displaying some of your favorite things can provide inspiration. Whatever you add, make sure everything speaks to you. That way, you'll not only be comfortable, but you'll also be more creative and productive.
---
As you can see by this blog, your environment can make a huge difference when it comes to creating a minimalist home office that works for you. I love my home office and feel both productive and creative in the space. If you're considering putting the "home" in your office, why not consider a home in Montecito, Santa Barbara, Hope Ranch, Summerland or Carpinteria? That's where I come in. Give me a call at 805.886.9378 or email me at Cristal@montecito-estate.com. Let's find the perfect space for your home office!
---