COMBINING ELEMENTS OF PSYCHOLOGY, COMMON SENSE, BASIC DESIGN AND EVEN MATHEMATICS CAN GET YOU STARTED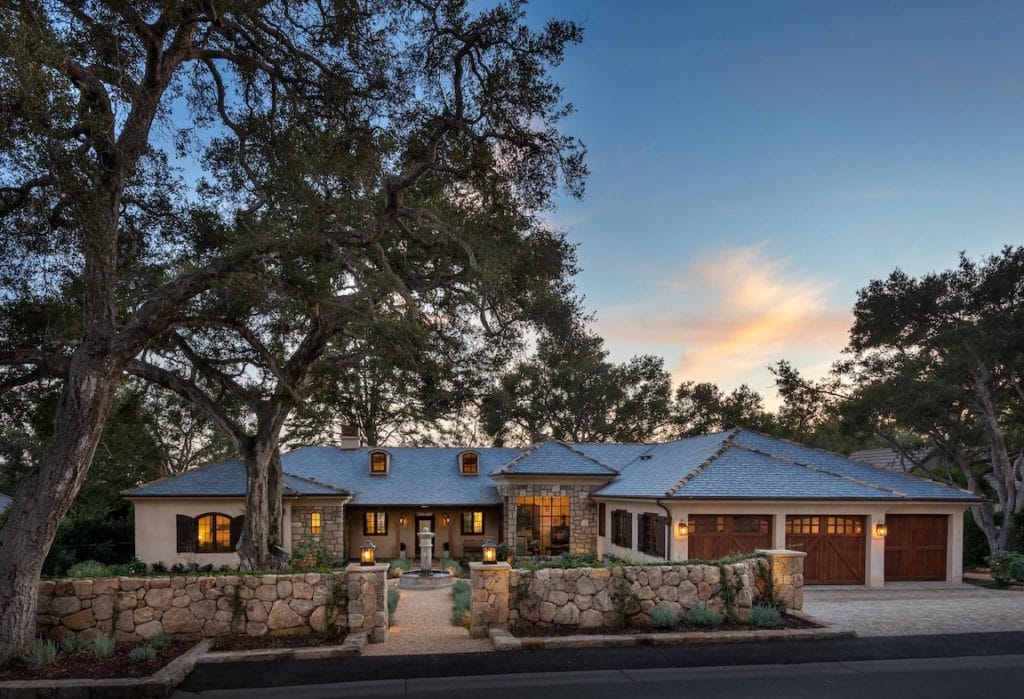 What makes a happy home? A safe haven offering sanctuary from the storm, so to speak. It's one that brings a smile to your face and a feeling of security even when you wake up on the wrong side of the bed. Or worse, find yourself in the middle of a global pandemic. And while it may be hard to pull yourself out of that bad mood, just remember all things (both good and bad) must come to an end at some point, and our current troubles will too (I promise).
Creating a safe haven to escape the world can be just the ticket to pull yourself out of that funk. Forget about wine and chocolate—it's all about setting the stage and engaging all your senses. Here's your ultimate checklist to transform your home into a happy place brimming with good vibes, featuring images from my new listing, a French Country-Style Montecito Home in Birnam Wood:
A Welcoming Entryway Will Set the Stage
I've said it before, you only have one chance to make a first impression. And it's a fact—first impressions are everything. That's why it's so important to put effort into creating a welcoming entryway. Not just for guests. Create an inspirational entryway for yourself, too.
READ: Ocean View Homes are Good for Our Health
An inviting entrance will not only have a positive effect on your mood every time you step through the front door, but it can dramatically make your visitors feel the good vibes you've created right away.
A welcoming entryway is one of the best ways to signal your brain that you're entering a safe, healthy space. Plus, it's easy to create. Just add a functional console table at your front door, along with some green accents and a congenial piece of art. Make this the spot to leave your keys, sunglasses, shoes, and anything else that stresses you out when you have to search for it.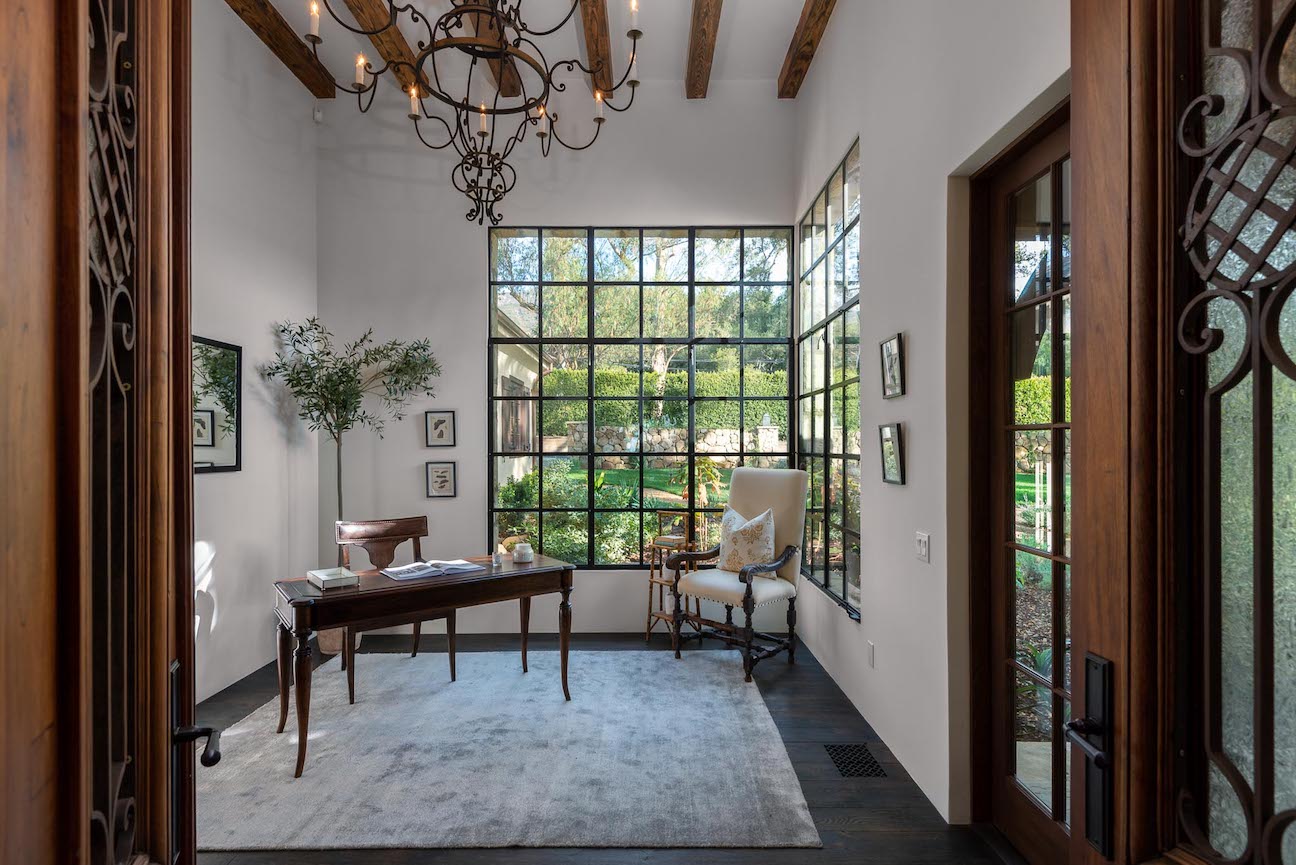 Light Up Your Life
Throw out your heavy drapery and let our famous Santa Barbara sunshine in. This showcase in the prestigious community of Birnam Wood takes that idea to the limit with an air of spaciousness and light thanks to numerous oversize windows and French doors. Natural light streams through the rooms, like the one above, complemented by lofty vaulted ceilings, and an open floorplan for an easy flow from indoor to outdoor.
A happy home has lots of restorative natural light streaming through it. There's nothing like a bit of sunshine to brighten your day. Plus, so many Santa Barbara homes offer owners and their guests' amazing views. Why would you want to cover Mother Nature's beauty with heavy draperies?
Add even more light to your space by strategically placing mirrors across from windows with a beautiful view, or in a dark corner to brighten it up.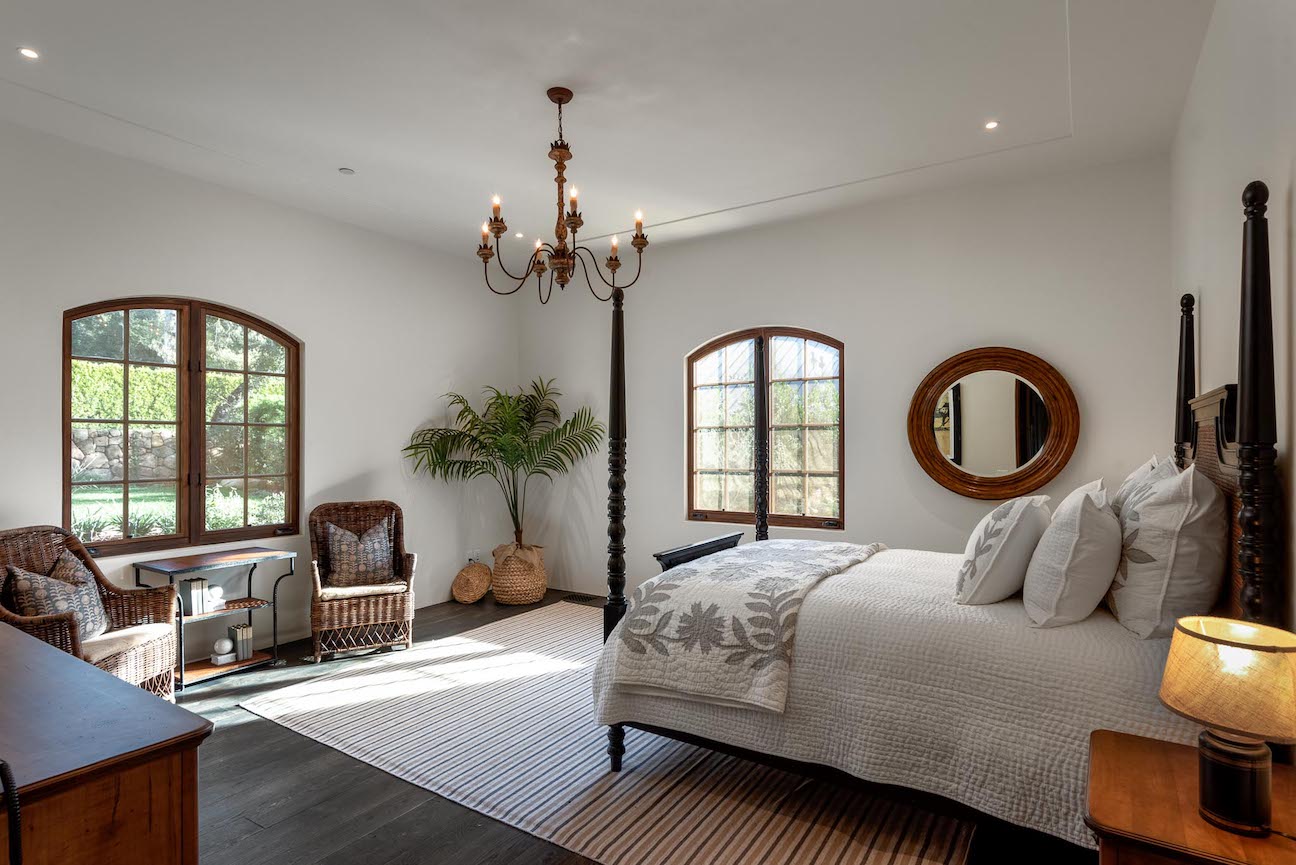 Be Nurtured by Nature
See how your eye is drawn to the palm plant in the bedroom pictured above? Not only can plants give your safe haven a more natural feel resulting from bringing the outdoors inside, but you can also enjoy the mind/body benefits that come with house plants. Plus, a little greenery goes a long way to cleaning the air and lifting your mood.
READ: Hug A Santa Barbara Tree Today
In fact, there are many scientifically proven health benefits related to spending time in nature. The list includes restoring your mental energy, reducing inflammation, and improving concentration. I can't say enough positive things about adding fresh greenery to your home décor plans, especially here in Santa Barbara. Our perfect Mediterranean weather gives almost everyone a green thumb.
Don't Forget the Sense of Smell
Many homeowners forget about the power of smell. That's why fragrance is an accessory that's often overlooked in the design of a home. Just as important as your choice in furniture, lighting, and artwork, scent adds depth and character to your home. It can even transform a negative vibe into an inviting and relaxing ambiance.
READ: Preparing Your Santa Barbara Home For Sale
Mood busting scents that can make your safe haven a happier place include:
Citrus – energizing and uplifting
Vanilla – appealing and calming
Coffee – can increase your attention span
Jasmine – adds freshness
Lavender – calming
Mint – increases blood flow to your brain
Use Color to Set the Mood and Tone
If you really want to dial up the joy meter inside your safe haven, don't underestimate the power of color. Simply put, color sets the mood and tone. Color palettes can affect you in a variety of ways. Is the color uplifting, or is it subdued? Here is the psychology behind some popular colors:
Brown induces a feeling of naturalness and comfort.
White is used to create an airy appearance; quiet and pure.
Gray paints a formality that is subtly elegant without being too conservative.
Black gives an elegant and sophisticated air.
Yellow gives a bright and optimistic air.
Red promotes a resonant and stimulating feeling.
Pink creates a fresh, fine, and feminine atmosphere.
Purple adds a luxurious and expensive feel.
Blue is perfect for creating a cool and clear look.
Green provides a calm and relaxing atmosphere.

Engage in the Power of Symmetry
Symmetry, also known as balance, is one of the most important design principles to follow when decorating your Santa Barbara safe haven. For example, in the image above you'll notice the great room of my Birnam Wood listing has three distinct spaces, where everyone can interact with the others without twisting or turning.
Keeping symmetry in mind when displaying items or arranging furnishings in your home can reinforce a feeling of order and comfort. The reason is simple. Our brains are drawn to symmetrical arrangements created by either symmetrical balance or asymmetrical balance. I know, asymmetrical balance sounds like a bit of an oxymoron. But if you can create vignettes throughout your home, made in groups of three, like the owners of the home pictured above did, you'll literally feel the balance.
Clean and Declutter
Of course, you also need to keep your safe haven clean and decluttered, as I noted in a previous blog post. As I explained in great detail, clutter, in its many forms, can be a chronic source of stress, and getting rid of it can make a person more focused, relaxed, and productive. Some psychologists recognize that having a clean, organized home is an essential part of the wellness equation.
---
Are you interested in taking all these tips and creating your own safe haven in Santa Barbara or Montecito? I invite you to explore my comprehensive website and schedule a consultation with me at your convenience. Call me directly at +1 (805) 886-9378 or email me at Cristal@Montecito-Estate.com. Let's tour some of my safe haven possibilities together.
---