FROM ITS GAVIOTA COAST TO MONTECITO AND CARPINTERIA, THE SANTA BARBARA AREA IS A MECCA OF BEAUTIFUL AND HISTORIC ESTATES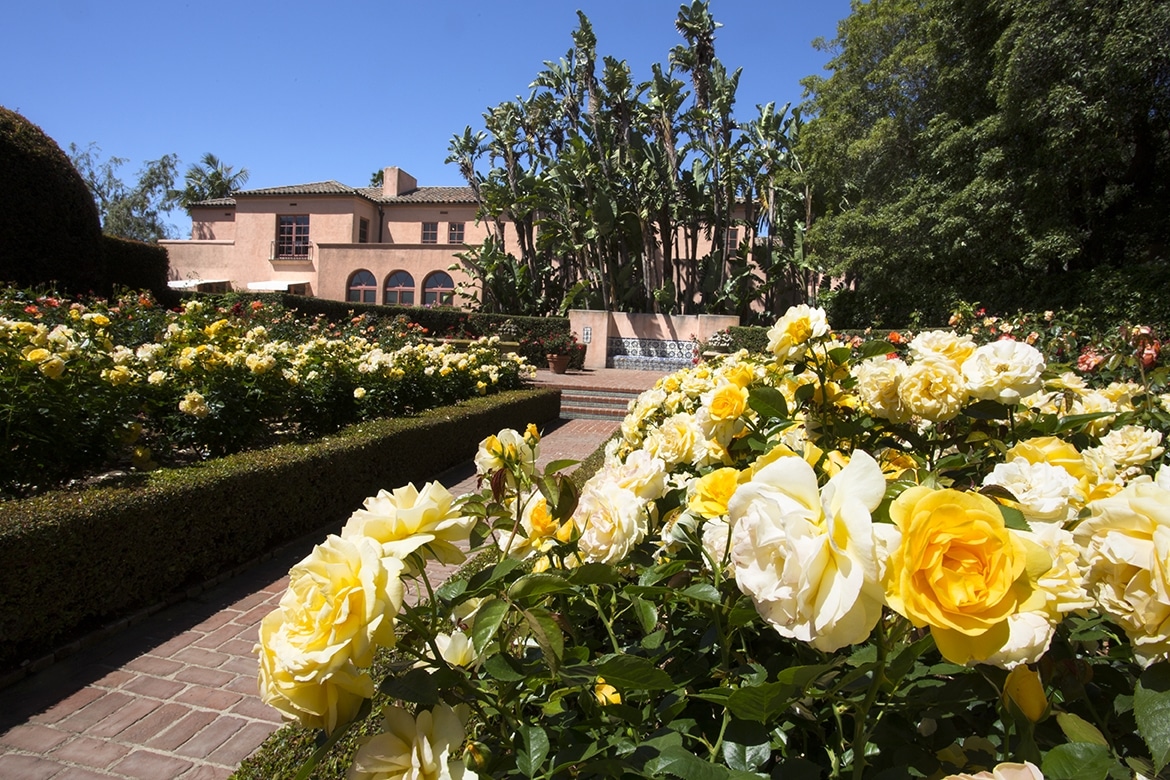 Courtesy of Lotusland
Santa Barbara has long been synonymous with gracious living: its hillsides and beaches home to some of the grandest estates in the country. As a Santa Barbara area resident and Realtor for more than three decades, I've been privileged to tour and learn about a significant number of these iconic Santa Barbara estates. Although it's difficult to choose just five of them to offer here, nonetheless, following is a representation of my favorites:
LotusLand
Pictured at the top of this blog post is the amazing Montecito property purchased in 1941 by Madame Ganna Walska, a well-known Polish opera singer and socialite. She spent the next 43 years of her life creating what we now know of as Lotusland. Today, her creation is recognized as one of the 10 best gardens in the world. Featuring a spectacular collection of exotic plants, the 37-acre property is a personal expression of Walska's penchant for the dramatic, unexpected, and whimsical. When you visit, expect a surprise around every corner in the form of the extraordinary collection of plants. After her death in 1984, Lotusland became a nonprofit botanic garden that opened to the public in 1993. Lotusland's educational programs serve the Santa Barbara community and the property's innovative horticultural practices are shared with botanic gardens and garden-lovers around the world. Visit Wednesday through Saturday by reservation only. Call (805) 969-9990.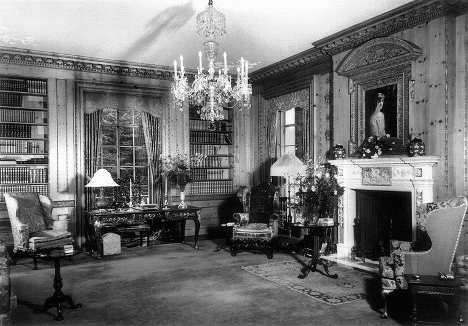 The library at Bellosguardo, the Clark summer home in Santa Barbara, c. 1940. Karl Obert / EmptyMansionsBook.com
Bellosguardo, the Clark Estate
For more than sixty years, Bellosguardo has remained shrouded in mystery. The twenty-four-acre, lavish Italianate villa that sits on a bluff overlooking the Pacific is known as one of the least-visited and most whispered-about landmarks on the California coast.
The estate's library has hundreds of bound leather volumes including works by Dante, Goethe, Homer, Virgil, Maupassant, Dickens, Tennyson, Thackeray, Voltaire, Faust, Milton, Cervantes, and Conrad. Although no one from the immediate family has visited since the early 1950s, the houseman dusts and turns the books periodically.
Originally built in 1937 by Anna Clark, widow of copper king Senator William Andrews Clark, the estate was inherited by their daughter, Huguette, who owned the estate until her death at age 104. Today, Bellosguardo stands just as Huguette left it many years ago: perfectly maintained and protected, now by the Bellosguardo Foundation. Dedicated to honoring the Clarks' past, the property was transformed into a center for art and culture in Santa Barbara and beyond. Get inspired by this video tour of the estate that has been frozen in time.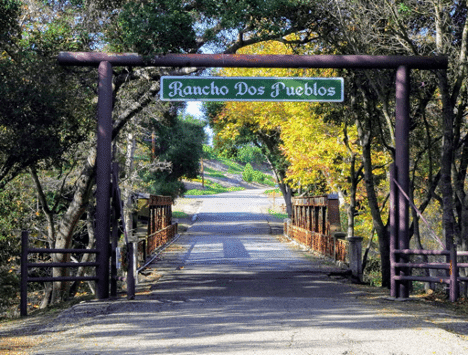 Courtesy of Rancho Dos Pueblos
Rancho Dos Pueblos
Known for being one of the most important oceanfront ranches along the spectacular California coast, Rancho Dos Pueblos is steeped in rich history. This treasure, built in the 1920s, is a perfect example of California Spanish style architecture. According to historians, this is the exact spot where Santa Barbara was first discovered by the Chumash Indians, who made the bluffs on either side of the canyon their home.
At the present time, the property is a working ranch growing both avocados and an exotic fruit called Cherimoya. The property is currently available for weddings and events, utilizing the many buildings on the Spanish-style compound, including 9 guest and employee residences, several barns and other support structures as well as a unique abalone aquaculture operation featuring a permitted recirculating water pipeline to the Pacific Ocean. Many of the old buildings dating back to the turn of the century are still in existence.
Added to all that is the fact that the estate is situated above an incredible private sandy beach rivaling most of the county and state beaches. With its incomparable beauty and privacy, sprawling across 2,190 acres along the spectacular Gaviota Coast, as Santa Barbara estates go, there is no other property like this anywhere in the region, and maybe even the world.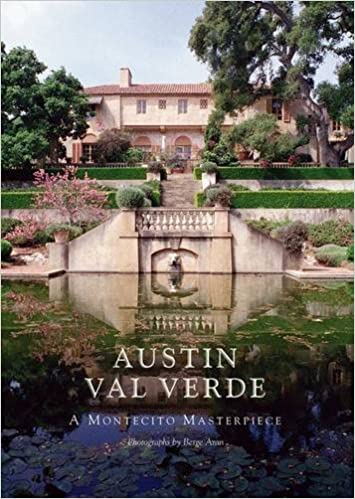 Austin Val Verde: A Montecito Masterpiece
The Austin Val Verde Estate
Also known as the Wright Ludington House, The Austin Val Verde Estate is so impressive that there is a book dedicated to it. Built in 1918 of hollow clay tile, covered with a red-tiled hipped roof, all arranged around an open courtyard patio -- this historic property received recognition on the National Register of Historic Places in 1995. Designed by architect Bertram G. Goodhue for fellow New Yorker Henry Dater Jr., the Val Verde Estate is famous as much for its beautiful gardens as for its centerpiece: the elegant Italianate mansion. The property was bought by Charles Ludington in 1925 and inherited by his son Wright S. Ludington a few years later. Celebrated architect Lockwood de Forest added landscaping, cottages, garages, an undulating wall, and a Spanish fountain around 1926.
This architectural and horticulture treasure features 185 species of plants that are culturally or scientifically significant, including three plum trees from the garden of the Shah of Iran and one of the last oak trees of its kind from the Guanajuato region of Mexico. You can also find watercress in the creek, a species exclusive to the royal family that could only have been a gift from the Duke of Windsor.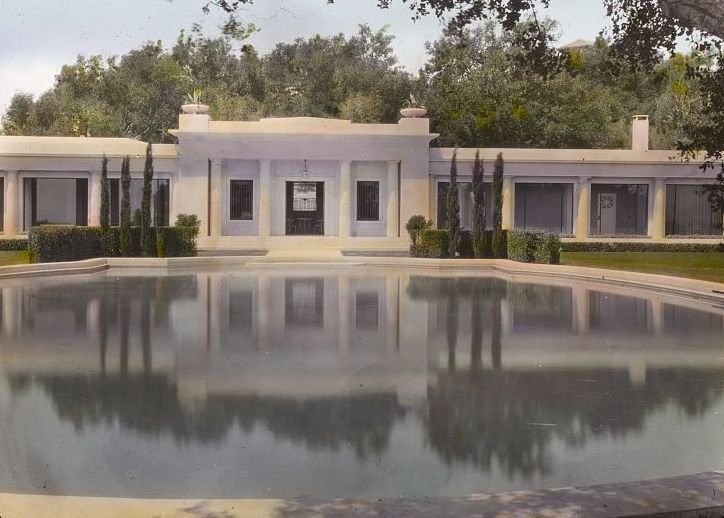 By Smithsonian Institution from United States - Arcady [slide], No restrictions, https://commons.wikimedia.org/...
"Arcady" a.k.a. George Owen Knapp house
Situated on a hill with spectacular 180-degree views of both the Santa Ynez Mountains and the Pacific Ocean, "Arcady," the spectacular estate of wealthy early 20th-century industrialist and philanthropist George Owen Knapp, was easily one of Montecito's most notable properties. Knapp purchased the 70-acre Arcady estate in Montecito from Ralph Radcliffe Whitehead in 1911 and immediately got busy expanding the already huge estate and its residence. He retained E. Russell Ray as the architect.
Behind Arcady, Knapp described "[soaring] sudden mountains, sheltering closely here the coast, their slopes etched in vertical patterns by a thousand watercourses and outcroppings."
Knapp was a lover of the great outdoors and made sure the residence included numerous French doors opening onto expansive decks and terraces. In fact, Arcady was revered, for its expansive gardens, sprawling lawns, and extravagant water features, including an enormous swimming pool within its own stylish pool house. The gardens were designed by the renowned Carleton Winslow and Francis T. Underhill, and were so spectacular that members of The Garden Club of America took a train from the east coast to see it for themselves in 1926. You can find a plethora of amazing images online.
---
There are many other amazing properties that could easily be added to this list of the 5 best Santa Barbara estates; some listed for sale on my comprehensive website. See something you like? Just call me at (805) 879-5000 or email me at Cristal@montecito-estate.com.
---