SERENITY TAKES CENTER STAGE WHEN IT COMES TO COLOR IN HOME DÉCOR
Each year, top paint brands and design experts reveal their picks for the color of the year, selecting the shades that best encapsulate the coming months. Their choices, including those of 2022 color trends, draw on pop culture, fashion, technology, and design from around the world. Typically, these yearly color trends represent something significant going on; taking into account the power of color to evoke a range of emotions.
It's All About Green
Even though each paint brand sees the world differently, in 2022, it's all about green, a hue often associated with healing, tranquility, hope, stability, optimism, and harmony. That's not so surprising. After years of all white and shades of gray, we are collectively craving color. Plus, we have all lived through a stressful period. That's why serenity takes center stage in the coming year, especially when it comes to home décor. The goal is to create an oasis of calm.
READ: Ocean View Homes are Good for Our Health
"Green is known to have a soothing, refreshing effect, especially in interiors—which is so important as we emerge from the pandemic," says color expert Leatrice Eiseman, the executive director of the Pantone Color Institute. "It is Mother Nature's most ubiquitous neutral color, working in tandem with every other color in the spectrum."
The color green has a long history, so don't think of the 2022 color trend as simply a new fad. In fact, green never goes out of style. Variations of the green theme have come into prominence many times in the past, going back to the late '60s and '70s. That's when the environmental movement began to take root, starting right here in Santa Barbara. In the '90s, green saw a resurgence due to another movement. At that time, the color came into vogue along with efforts to save the rainforests. But looking back, you'll see that just about every decade has embraced green hues in home décor. That's because it can work as a subtle neutral or a standout accent. And considering the quintessential indoor/outdoor lifestyle we covet here in Santa Barbara, the green 2022 color trends are certainly embraced here.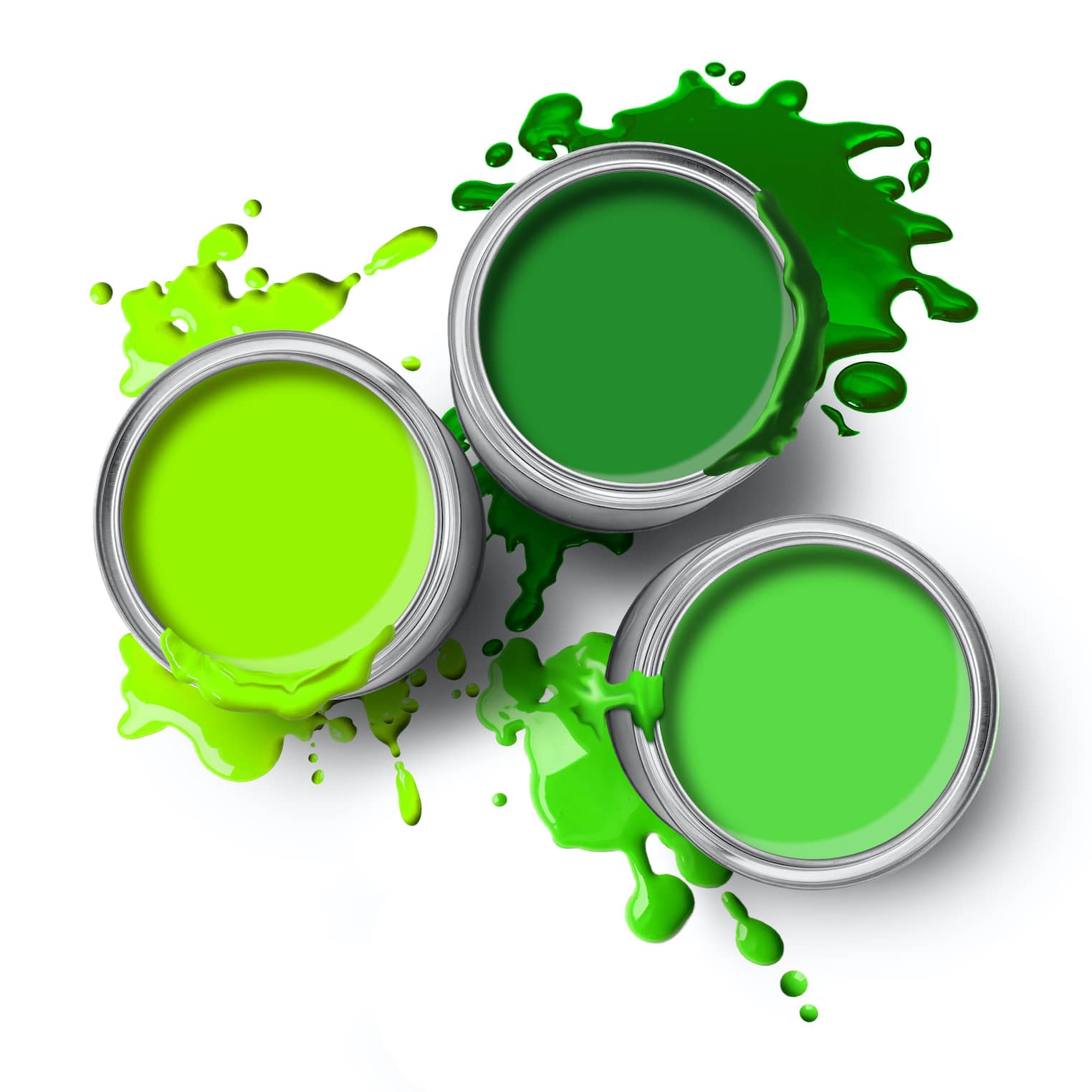 Why is color so important in a home?
Color is an emotional element, especially when it comes to your home. Santa Barbara homeowners should be aware that the color they choose for both their interior and exterior paint can create a profound influence on their space and the people in it, playing a vitally important role in the world in which they live. Color can cause a variety of reactions, sway thinking, change actions, and affect your heart rate, blood pressure and even your breathing.
Generally, color is divided into two categories: warm and cool tones. Warm tones, like red, orange, and yellow can energize a space and its occupants. Cool tones such as blue, green, and purple generally create quiet, relaxing atmospheres. Whatever you choose, just remember to use color to your advantage to create an inviting, productive space.
When painting your Santa Barbara home's interior, an excellent tip is to use lighter colors in the ceiling and go darker as you go down to the floors. That simple trick creates depth while making every room look welcoming. Keeping things color-coded will help you bring into existence a style that will last.
But color doesn't only count when it comes to paint. Your furniture has a lot to do with a room's atmosphere. Whatever look you're trying to achieve, just concentrate on combining a contrast in hues while balancing colors. Keep in mind the 6:3:1 ratio -- the major and most dominating color takes center stage to set the mood (6), balanced with darker or lighter colors (3), with smaller aspects (1) emphasizing the lines and shapes of your architecture.
Experts Choose Their 2022 Color Trends



Here is a list of what the major color trendsetters say to look out for in the coming year:
Pantone Color Institute
Known for providing a universal language of color, The Pantone Color Institute is one of the only companies not to go with green this year. For 2022, Pantone did something different. So different, in fact, that it has never been done in the 22 years since the company unveiled its very first Color of the Year choice. For 2022, Pantone created a brand-new color rather than select from the company's already vast array of hues. The new color is a vibrant shade of periwinkle blue with energizing violet-red undertones the company calls Very Peri.
"It embodies a courageous presence and encourages personal inventiveness and creativity," says Lee Eiseman, the executive director of the Pantone Color Institute. "And if there was ever a time historically where we need that—we need that encouragement, we need that uplift." He went on to say, "it helps us to embrace the future, the possibilities, as we rewrite our lives."
And I concur. This combination of cool and warm tones feels new and unexpected, a reflection of the type of innovation this moment in history calls for.
READ: Exterior Color Schemes That Work for Santa Barbara Homes

Glidden
This year, the designers at Glidden chose Guacamole Green as its star hue for the new year after the results of a Harris Poll survey, which revealed that 62% of Americans are willing to use green paint in their homes.
"After studying the global impact of the past year, our experts recognized that green would be the 'it' color for 2022 and beyond," a company spokesperson said.
Sherwin-Williams
The experts at Sherwin-Williams did their own research and came up with similar findings, selecting the subtly soothing Evergreen Fog SW 9130 for 2022.
"Based on our research, we were seeing neutral colors warming up, sustainability and organic living becoming key design trends, and organic textiles and natural materials are currently huge in home and design," says Sue Wadden, director of color marketing at Sherwin-Williams. "Green just made the most sense, I wanted the Color of the Year to reflect this idea of rebirth and growth and our collective newness for 2022, and Evergreen Fog was the perfect fit."
Behr Paint
Similar reasons were cited by Behr Paint experts, who choose Breezeway as the brand's featured shade for 2022.
"Greens are 'nature's neutral' and bring a sense of restorative comfort to a space," says Erika Woelfel, Behr Paint's vice president of color and creative services. She also noted the versatility of the color by adding: "They are popular for walls, cabinetry, doors and more. They work great as an accent or all-over room color and tend to fit with many different styles."
Valspar
Instead of sticking to one color of the year, Valspar curated a palette of 12 nature-inspired hues, with soothing greens included. Each color in the collection of warm neutrals, dusty pastels, and awe-inspiring blues and greens foster a peaceful, optimistic mindset.
"Colors can power moods, energizing us with confidence, strength, and curiosity—allowing us to express ourselves with color anywhere—whether it be a full room, an accent wall, trim or furniture," said Sue Kim, Valspar color marketing manager. "Valspar's 2022 Colors of the Year provide consumers a wide range of naturally based warm colors that will not only help calm the nerves and boost the mood but also provide a confidence in what the future may hold."
READ: The Luxury Home Aquarium: Out of This World Amenity for Your Pad
Benjamin Moore
Santa Barbara homeowners are encouraged to have some fun with October Mist, a soft and earthy shade of green. One look and you'll see why. This subtle hue that symbolizes balance and harmony, connotes restoration, relaxation, and peace. In addition, green represents the heart chakra, our energy center, signifying a sense of love and compassion.
"There was a range of greens from dark to light brought to the table during our research phase, but the team came back to October Mist again and again, signaling that there was something about this color that felt right for the time," reveals Andrea Magno, the brand's director of color marketing and development. "This year, it felt right to take an introspective approach. We considered personal and authentic experiences, plus cultural influences that resulted in each team member looking at color trends from unique perspectives."
PPG
The experts at PPG selected a soft, organic shade of green called Olive Sprig PPG1125-4 this year. Think soothing aloe vera plant meets velvety sage leaves. Ahh…
"As many of us know following a year of lockdown, the easiest way to shift your mindset is to change your environment," explains Amy Donato, senior color marketing manager at PPG paint. "While we begin to trade sweatpants for strappy shoes, recipes for reservations, and a night in for a night out, our paint color preferences are shifting, too."
Dunn-Edwards
The experts at Dunn-Edwards went a different way this year, selecting a warm, earthy shade to reflect a broader back-to-nature trend in interior design. Art and Craft DET682 is a soft, sophisticated brown creating a peaceful, grounding effect. And it goes perfectly with green.
The brand's color expert and stylist Sara McLean explained it this way: "Art and Craft is truly a down-to-earth color that signifies stability, comfort, and calm, a color that expresses what we all seek right now."
READ: The Best Interior Paint Colors for Selling a House

Color Can Make a Big Difference When It Comes Time to Sell



In case you didn't know, when it comes time to sell your home, the right paint color can make a big difference in your final sale price. Studies show that a $50 can of blue paint can result in a huge return on investment for homeowners, no matter what the color of the year is.
"Color can be a powerful tool for attracting buyers to a home, especially in listing photos and videos," said Zillow chief economist Svenja Gudell. "Painting walls in fresh, natural-looking colors, particularly in shades of blue and pale gray not only make a home feel larger, but also are neutral enough to help future buyers envision themselves living in the space. Incorporating light blue in kitchens and bathrooms may pay off especially well as the color complements white countertops and cabinets: a growing trend in both rooms."
Following are some timeless paint color choices for Santa Barbara homeowners. As shown in the image above, just add a splash of green to any of the following for a current look:
Pantone's Beach Glass: perfect for bathrooms
It's a fact. Homes with bathrooms painted blue have sold for an average of $5,400 more than those painted in other colors. That's the highest sales premium of all colors analyzed. Add the color of the year with a beautiful houseplant. In fact, there are endless reasons to add indoor plants in every room of your home. Houseplants improve the air quality in your home by cleaning the toxins from the air.
Go neutral in your kitchen and dining room
Neutral colors like PPG's Transcend give any kitchen and dining room a clean backdrop, allowing Santa Barbara homeowners to let loose by using accenting vivid colors, like any of the green hues mentioned above to transform the space. Neutral paint colors aren't only a thing you should consider for your walls, in fact cabinets in a variety of neutral tones is one of my favorite trends that never goes out of style and is the perfect way to really personalize any kitchen.
Blue bedrooms
Homes with blue bedrooms sold for $1,856 more on average. There are so many shades to choose from, including some of the green hues mentioned above that contain hints of blue. Not only will it look good and help with the sale, but blue is also associated with feelings of calm which, when picked up by your ganglion cells and relayed to your brain, helps reduce blood pressure and heart rate, all of which help you receive a solid night's sleep.
Neutral exterior colors
When it comes to a home's exterior, neutral tones, such Farrow & Ball's earthy neutrals and rich naturals sold for $3,496 more than comparable homes painted in a different color. And while you're painting your exterior a neutral color, why not go green for your front door? Green is one of the best-selling front door colors. Traditionally, this paint color indicates prosperity and wealth, but its natural appeal means you're also serene and peaceful. One caveat, though: don't go too neutral on your front door or it may appear bland. Go vibrant instead.
Paint your living room in rich, bold neutrals
Sherwin-Williams Urbane Bronze is an excellent choice for any living room or great room. When done right, neutral living rooms can help a home sell for $1,809 more on average. And what goes better with bronze than a natural green?
READ: Timeless Interior Design Trends
A splash of Glidden's Color of the Year Collection
Any room can benefit from an accent wall. It can establish a focal point in your space, so the wall you choose is important. If you have a fireplace, built-in bookshelves, or some other feature you want to spotlight, pick one of the 2022 color trends for your accent wall to draw eyes, and those of potential buyers straight to it.
When it comes to the 2022 color trends, any of the hues listed above are a perfect choice for your home's interior or exterior design. And if you're considering listing your home, keep in mind one of the most important steps is to freshen your property for a sale. If that's you, please contact me. As a leading Montecito Realtor and resident for many years, I have valuable insight into the current local real estate market. On the other hand, if you're looking for a new home, chances are you'll want to consider having that one painted as well.
---
In fact, I might have the home of your dreams in my portfolio of current listings. Just give me a call at (805) 886-9378 or email me at Cristal@montecito-estate.com. In the meantime, go green!
---